WorldVentures Adds COO And Historic New CEO
March 28, 2020
By Team Business For Home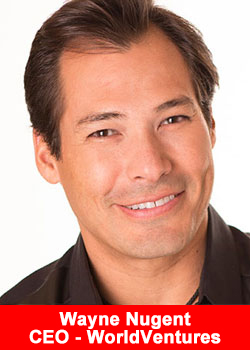 In an unprecedented move, WorldVentures, the leading direct seller of global travel and leisure club memberships, announced this week that for the first time in the company's 14-year history Founder and Chief Visionary Officer Wayne Nugent will be the new Chief Executive Officer.
Michael Poates was also announced as Chief Operating Officer.
Wayne's status as a visionary in the direct sales landscape is noteworthy, and his commitment to leadership has become a platform for a dedicated following of professional networkers and businesspeople around the world. He has established a currency of trust with servant leaders who have developed their business as an extension of their character and values. In his new role, he will provide the strategic guidance and planning for the long-term success of the business.
"In service to our customers, Independent Representatives and corporate teams around the world, I want to establish a strong foundation of Vision, Execution and Innovation rooted in an 'infinite game' mindset – one that I feel personally obligated to lead and steward,"
CEO Wayne Nugent said.
"We are fully committed to providing a platform that empowers a global community to do more and become more."
WorldVentures has also added a new COO, Michael Poates, to serve the business, establish new and secure existing partnerships and support the company's Independent Representatives around the world. Michael will enhance processes and initiatives that drive revenue for WorldVentures.
"Michael's role will complement my own and serve the entire business,"
Wayne said.
"His extensive executive experience matches our next phase of growth and he will make a significant contribution to our infrastructure and culture."
Michael has proven business brand experience. He has decades of strategic executive leadership, providing exceptional growth strategies for recognized brands, increasing customer loyalty and revitalizing engagement.
This is a turning point for the company to position itself for increased fiscal growth and strengthen its position as the direct sales travel leader, while remaining in tune with the needs of its customers and Independent Representatives from day to day.
About WorldVentures
WorldVentures Holdings LLC is a privately held company based in Plano, Texas, an affiliate of WorldVentures Marketing that sells travel and lifestyle community memberships providing a diverse set of products and experiences. The company's goal is to help Independent Representatives, DreamTrips Members and employees achieve more fun, freedom and fulfillment in their lives.
WorldVentures uses the direct sales model to go to market with active Representatives and members worldwide. For more information, visit worldventures.com.