Direct Selling Veteran, Keith Halls, Appointed As Elepreneurs CEO
April 27, 2020
By Team Business For Home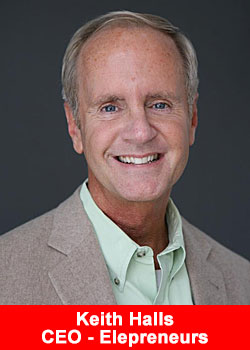 Elepreneurs, a leading producer and distributor of nootropic, functional beverage products with a focus on health and wellness, has announced the appointment of Keith Halls as Chief Executive Officer.
Halls, who was previously serving as President of Elepreneurs, will continue to manage all operations and reporting channels for the company.
From Keith Halls,
"I have three focus areas as I expand my role at Elepreneurs. I plan to work on expanding the distributor opportunity, introducing new, innovative products and creating the ultimate working environment for our employees.

We are transitioning from a small company into a large one and have put together a well-qualified and seasoned team to lead the charge. I am grateful to be a part of that team."
Recently recognized for its growth in the Direct Selling News Global 100 List, Elepreneurs boasts more than 500,000 customers across the United States who enjoy its products and opportunity to earn additional income.
Elepreneurs is preparing for more growth to additional geographic markets by ensuring its sales force is supported while the United States faces a global pandemic.
The company launched a stimulus plan in March that will run through April and has already distributed more than $350,000 to its sales force.
Halls joined Elepreneurs in 2018 and has served as the company's President as it experienced exponential growth.
He began a career in network marketing in 1984 at Nu Skin and served in various corporate leadership roles serving as Senior Vice President and a member of the Board of Directors during his 17 years with the company.
After Nu Skin, Halls became an independent distributor with several companies. As a distributor, he led large international organizations with several companies and was recognized as Distributor and International Distributor of the Year.
Halls earned bachelor's degrees in political science and accounting from Stephen F. Austin and Brigham Young University, respectively. He is also the author of one of the industry's best-selling books, "Nine Rules to Succeed in Network Marketing."
About Elepreneurs
Elepreneurs is on a mission to elevate your health, wealth, and happiness. We help you elevate your life through patented nutritional products, life-changing virtual success training, and a unique rewards program.
Elepreneurs actually builds happiness right into our powerful nutritional products. The superior, scientifically backed ingredients stimulate the happiness hormones — dopamine, oxytocin, serotonin, and endorphins — which we refer to as D.O.S.E. For more information, visit www.elepreneur.com.
Recommended Distributors The Happy Co.