Jules Chame And Narida Maharaj From South Africa Achieve Marketing Director Rank At WorldVentures
April 6, 2020
By Team Business For Home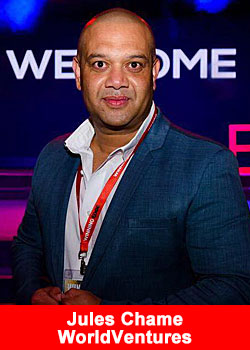 Top leader Sashin Goventer stated:
Let's congratulate our newest Marketing Director's from Johannesburg, South Africa, Jules Chame and  Narida Maharaj.
2 years and  81 days ago Júlian and Nari attended a meeting that I spoke at, that night they both locked arms with me, they followed a very simple system from Day 1, they stayed coachable, trainable and teachable and now they becoming unstoppable.
Today their team repeats the same attitude, their team "Work Likes They Broke", their team are always in Millionaire Student more, and totally loves & respect their leadership.
Just last week whilst the world has come to a standstill due to the virus & recession, their team had their biggest week of growing to over 300 new customers in 7 day.
I'm so proud of you guys, you guys have not just served your team but you've served @TeamEXPANSIONWorldWide. I love you guys for life and theres absolutely nothing I wouldn't do for you.
About WorldVentures
WorldVentures Holdings LLC is a privately held company based in Plano, Texas, an affiliate of WorldVentures Marketing that sells travel and lifestyle community memberships providing a diverse set of products and experiences. The company's goal is to help Independent Representatives, DreamTrips Members and employees achieve more fun, freedom and fulfillment in their lives.
WorldVentures uses the direct sales model to go to market with active Representatives and members worldwide. For more information, visit worldventures.com.