Julie And Scott Glenn Achieve 4-Star Executive Rank At Cloud 9 Life
April 28, 2020
By Team Business For Home
Cloud 9 Life is excited to report that Julie and Scott Glenn hit 4-Star Executive and are quickly rising through the ranks at the up and coming network marketing start-up.
"Cloud 9 Life is by far the simplest business opportunity I've ever seen. Not only is it affordable with instant rewards but it's all at your fingertips from your phone!! We have earned enough money in our 1st month to put away a mortgage payment. Perfect timing with our current situation!!"
says Julie Glenn.
Cloud 9 Life is home to high-performance lifestyle products and a business platform that has the power to positively transform the world. The company has created cutting edge and industry trend setting tools to help grow a business along with a commitment to making change in local communities where their products are sold.
Cloud 9 Life is also deeply committed to creating social impact in the local communities that serve their customers and Executives.
"We are so excited to be involved in a company that not only cares about health and wellness, but also gives back to the community,"
says Julie and Scott.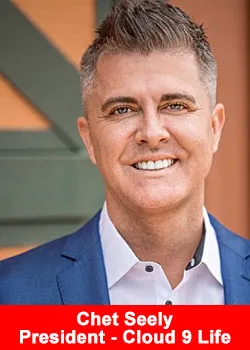 Social impact is built into the DNA of the company and it's not only part of its culture, it is part of the way the company conducts their business.
Cloud 9 Life donates 3% of the proceeds from the purchases of their products to projects and causes that benefit organizations in local communities.
"When you purchase Cloud 9 Life products, or even tell our story, you're part of something bigger than a brand.

You're part of a movement that makes everyday purchases serve a larger purpose. We invite all of our customers and Executives to be part of our movement and making the world a better place"
says President and Co-Founder Chet Seely.
Cloud 9 Life is surging in sales and Executive recruiting during the first quarter 2020 and the companies first 3 months in business.
Their success stems from being at the forefront of some major mega trends that have been around and are happening throughout the world today – Gut health and the immune system, home-based business opportunity, remote workforce and utilizing cloud-based infrastructure and management systems.
About Cloud 9 Life
Established in January 2020, Cloud 9 Life is a vehicle to help people take control of their health and their finances. Committed to providing truly exceptional products, customer service, and tools to support customer success Cloud 9 Life has made being a business owner more accessible, more attainable, and more fun than ever before. Cloud 9 Life is a privately owned company with headquarters in Naples, FL.USA. For more information, visit Cloud9Life.com