Legal Shield Host Online Convention For 5,000 Associates
April 1, 2020
By Team Business For Home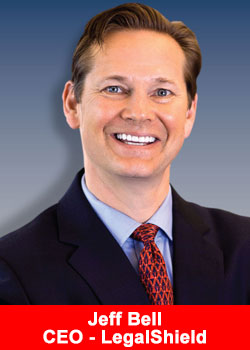 LegalShield, the world's leading provider of affordable legal and identity theft protection plans, will hold its annual international convention via an all-digital experience from their headquarters in Ada, Oklahoma on April 4-5, 2020.
The event brings together over 5,000 associates across the U.S. and Canada for two days of engagement with leading expert speakers, specialized professional development training and networking opportunities.
The livestreamed convention will also spotlight enhancements to both the LegalShield and IDShield products.
Keynote speakers at the convention include LegalShield CEO, Jeff Bell; LegalShield EVP Network & Business Development and Million Dollar Ring Earner Darnell Self who will speak on leadership development; President of LegalShield's Network Division Don Thompson, will introduce 10 Core Solutions—trainings on the basics of selling legal services and identity theft protection products. Additional speakers include John Addison, Former CEO Primerica & LegalShield Board Member; Brian Carruthers, Million Dollar Ring Earner; Attorney General of Dallas Ken Paxton; and Dr. Eric Thomas, better known as "ET, The Hip-Hop Preacher."
"To change the world, you must lead the change," said Jeff Bell, CEO of LegalShield.
"Our International Convention comes at a time when our associates need our incredible system of success training more than ever. During spans of difficulty, we must focus on our uniquely positioned business and digital tools which allow associates to remotely run every aspect of their LegalShield business – including coming together at our convention.

We have always prided ourselves on using disruptor technologies to move the needle, so by hosting our convention digitally we are at the forefront once again."
During the convention, LegalShield will highlight several company-wide initiatives including:
LegalShield: Introduction of an all-new LegalShield Life Stages Guide that reminds everyone that access to affordable legal assistance can help you in numerous ways, in all phases of your life including Getting Married, Financial Decisions, Family Additions, Living with Teenagers, Family Entrepreneurs and Elder Care/End of Life.
IDShield: Launch of Privacy and Reputation Management. The award-winning IDShield will now include advanced services that provide comprehensive privacy and reputation management consultation and assistance. In addition to data monitoring and threat alerts, members will receive 1-to-1 consultation to proactively safeguard their personal data on smart devices, social media, voice assisted technology, internet browsers, data broker sites and more.
Attendees will get to engage in important educational sessions and learn from company leaders and experts in how to build their business. LegalShield will also recognize the achievement and success of associates who have elevated their business to new levels.
Mr. Bell added, "We want to help prepare our independent marketing and sales associates to succeed in their business as they pursue our just cause – equal access to equal justice for all. We know our trainings are essential and directly correlated with associate success. This is needed now more than ever. Ask yourself, have you ever said, 'I want to speak to your supervisor'? Of course you have, and that's why you need LegalShield."
About LegalShield and IDShield
A trailblazer in the democratization of affordable access to legal protection, LegalShield is one of North America's largest providers of online legal subscription plans covering more than 4.375 million people. Its IDShield identity theft solution for individuals and families has more than one million members. LegalShield and IDShield serve more than 141,000 businesses. In addition, over 40,000 companies offer LegalShield and IDShield plans to their employees as a voluntary benefit. Both legal and identity theft plans start for less than $25 per month.
LegalShield's legal plans provide access to qualified law firms and their attorneys with an average of 22 years of experience in family matters, estate planning, financial and business issues, consumer protection, tax, real estate, benefits disputes and auto/driving issues. Unlike other legal plans or do-it-yourself online services, LegalShield has dedicated law firms in 50 states and all provinces and territories in Canada that members can access at a fraction of typical law firm hourly rates.
IDShield provides privacy and reputation management and consultation and services and is the only identity theft protection company armed with a team of Licensed Private Investigators to restore a member's identity.
For more information about LegalShield, visit: https://www.legalshield.com/ or for more information about IDShield, visit: https://www.idshield.com/.