MyDailyChoice Launches Loyalty Rewards Program
April 13, 2020
By Team Business For Home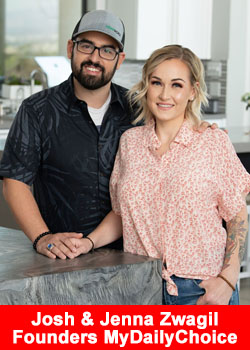 On an exciting Virtual Launch Event with thousands of Affiliates, MyDailyChoice founder and CEO Josh Zwagil, announced the launch of the Autoship Loyalty Rewards Program.
Created to elevate the MDC shopping experience, it's likely to become the most significant rewards program in the industry.
The idea was based on making it easier for Affiliates and Customers to get their regular shipments, while also expressing gratitude for their continued loyalty. The result was to offer up to 30% back in Loyalty Rewards that can be used towards future purchases.
It's a 5-tiered approach starting with 10% back and working up to 30% back for life within just 13 months of consecutive Autoship shopping. The best part is the program's flexibility, as Autoship products can be changed every month so customers are not locked into the same order.
"It's probably the most powerful rewards program in the industry. We genuinely want our Customers and Affiliates to know how much we appreciate their loyalty. So as always, we look to do something that no one else has ever done,"
says Josh Zwagil, CEO and Founder of MyDailyChoice.
The new Loyalty Rewards Program went live on April 1st and there's has a been a spike in new Autoship accounts. MyDailyChoice Customers are excited to capitalize on all of the free products available while enjoying the convenience of regular monthly deliveries.
MyDailyChoice is excited for the future as this is just one of the many new enhancements they have planned to support Affiliates and Customers in 2020.
About MyDailyChoice
At MyDailyChoice, we are 100% committed to providing our independent business owners and customers with the most attractive and highest quality product lines within top-trending industries.
Our mission is to empower families around the world through good health, financial opportunities and the smart daily choices that can deliver both.
That is why we provide an unprecedented compensation plan and a unique and innovative line of products made with the highest quality CBD oil, grown and manufactured right here in the US. MyDailyChoice was founded in 2014, merged with HempWorx in 2017, and is currently headquartered in Las Vegas, NV. For more information please visit www.mydailychoice.com and www.Hempworx.com
Recommended Distributors MyDailyChoice