Network Marketing Leader Roland Labs Achieves Executive Ambassador Rank With Enhanzz Global
April 23, 2020
By Team Business For Home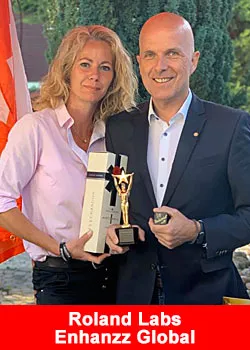 Executive Ambassador is the first position of three Ambassador positions working Enhanzz' powerful compensation plan, representing a high seven figure yearly volume and high six figure yearly commission checks.
Being with the company from its very first hour, Roland Labs has constantly build a strong business by constantly practicing servant leadership to his downlines. Already, he is looking back on more than 15 years of Network Marketing where he worked closely with Gerhard Reheusser and Dr. Sven Goebel ever since.
CEO Dr. Sven Goebel stated:
While it was Roland's position that hit the elite Executive Ambassador rank, this photo says it all: behind every strong man is a stronger woman that drives, supports, engages and amplifies their common actions. Consequently, the recognition goes to both of them, Roland Labs and Britt Reinhold. We are very proud to have you on board. 
Already in April, there will be downlines of Roland qualifying for the same rank, as the company is showing great momentum throughout Europe currently.
About HANZZ+HEIDII
The exclusive HANZZ+HEIDII natural vegan skincare line for "HIM" and "HER", is a cutting edge, active symbiosis between nature and biotechnology, including its proprietary "Magic Swiss Code" formula, and its "Made Without" referring to its commitment that all products are non-animal tested and free of any harmful irritants and additives.
Currently, there are 9 products available for "HER" including a cleanser, serum and day/night cream; 4 for "HIM" also featuring a cleanser and serum  plus 1 unisex facial mask. For more information please visit www.hanzzandheidii.com,  www.enhanzz.com and www.woobyenhanzz.com