Perfectly Posh Appoints Jennifer Harmon As VP Of Business Development.
April 1, 2020
By Team Business For Home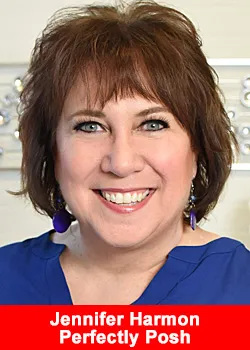 Perfectly Posh is thrilled to announce Jennifer Harmon joining the executive team as a new VP of Business Development.
Jennifer has a long history in direct sales, both in the field and at the corporate level. She spent 14 years as a top-performing consultant in recruiting with Pampered Chef.
In 2011, Jennifer accepted her first corporate position at Jamberry Nails as Director of Business Development. She led efforts to launch them into direct sales, and the company exploded to 160,000 consultants in just 4 years. In 2015, Jennifer left her position to start her own corporate consulting business.
Her most recent accomplishment was creating and overseeing the launch and early growth of Tori Belle Cosmetics. There, she was key to their early success and explosive growth welcoming in over 20,000 affiliates and over $15 million in sales within the company's first 8 months of business.
When asked why she accepted the role as VP of Business Development with Perfectly Posh, she said,
"I was looking for a company that needed someone who could help them have a fresh start, one where I could bring in my skillset to enhance what was already there and to fill in any gaps to better serve and support the field.

Not only do I love Posh products, but I love that the company has heart! Perfectly Posh sources Shea from suppliers that help underprivileged women in Africa whose lives depend on the production of Shea.

Posh also honors members of the military, first responders, and teachers with a 10 percent product discount. These programs really speak to me!"
Perfectly Posh's mission is all about the pursuit of pampering with efficacious skincare and pampering products that are made in the USA. All products are phthalate-, sulfate-, paraben- and cruelty-free. The company was founded on the belief that everyone deserves to be pampered.
About Perfectly Posh
Ann Dalton started Perfectly Posh with Andrew McBride back in 2011. She brings a strong background in product development, design, promotion, events, and a passion for pampering with the BEST ingredients and USA-made products. Ann also brings almost two decades of entrepreneurship, and nearly a decade of working with other women who own businesses in the social selling model.
She is a workaholic with a love for seeing other women create and build their lives on their own terms. Ann loves old movies, art, and history. She and her husband Justin have been married for nineteen years. Together they enjoy spending time with their three sons finding new adventures in sports, travel, food, and keeping up with Perfectly Posh.
As the company grows, Ann's vision is to see it increasingly become a trend-setting national brand that redefines what it means to own a social business. At the same time, Posh is raising the bar on skincare quality and fun standards in a real-world setting: everyone needs Perfectly Posh, not just direct sellers! She has a focus innovation and relevant business strategies that work in today's fast-changing world, while keeping an eye on the pampering purpose of the brand. Ann is fixed on continuing to share the notion that you deserve to be pampered. She knows that when you take care of yourself for just a few minutes, you're better able to take care of all the other things you're passionate about. For more information please visit www.perfectlyposh.com