Valentus Founders Dave And Joyce Jordan Speak Out
April 15, 2020
By Team Business For Home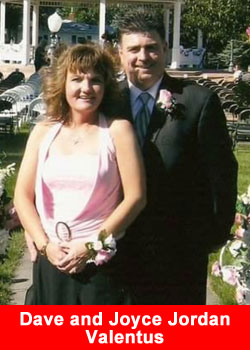 Dave and Joyce Jordan stated:
Growing up in a family of 13 brothers and sisters and having a father who was a police officer I learned a lot as a child about life and how to treat people the way you want to be treated.
I went out with my first girlfriend and now I've been married to her now for almost 25 years.  This is a recipe for truly loving life.
About 6 years ago I launched Valentus, which has sold incredible products to incredible people. Watching this company come together has been a true testament to the vision of network marketing we wanted when we started.
"To be a company built by distributors for distributors".
Watching everyday people change their lives through the power of this incredible industry and to have them do it with the Valentus model has been a true testament to what we stand for. Valentus was created to welcome everyone who has ever been treated wrong and help people understand that Valentus is a company you can trust and feel the true spirit of people helping people.
Believe me I know, because owners in this industry treated me with disrespect. I was terminated in my first network company on my wedding day even though I had a free car and 5 figure monthly checks. At 28 years old I walked away from the industry for 3 years.
I joined my second company only to have the owner run it out of business after I built a team of over 70,000 customers in less than 2 years.
The final straw was in 2008 in my third venture when I walked away from a $50,000 a month check and said "enough is enough"!
That's where Valentus comes in. The only way I knew where I could treat people the way I always wanted to be treated was to start and own my own company. It was not like I did not have experience running a company.  I was self-employed since I was 18 years old and built a Multi-Million Dollar sports memorabilia business while still a young guy.
I felt used by greedy owners and bad management. I had enough capital and I had the Network experience as a distributor to set out on my journey and show the industry that you can run a multi-level marketing company and get away from the greedy people who use their distributors to build their fortunes.
Valentus was born in July of 2014
In our first year we did $300,000 in sales.
In 2015 $3 Million.
In 2016 $32 Million.
In 2017 like every company we ran into some obstacles and dropped to $22 Million.
In 2018 the challenges continued through the front half but we worked through our challenges and with month over month growth and we did $17 Million.
In 2019 the past year set us for an explosion and we did $88 Million.
The reason I share these numbers is because I've always been faced with challenges.  The Latin word for Valentus is Prevail  which really sums up my life and our company.  You see the strength of a company during challenging times more so than in good times.
To date Valentus is approaching $200 Million in total sales and will be a six-year-old company in July debt free and making a difference in thousands of people's lives. I believe we will do our next $200 Million in the next 18 to 24 months.
Valentus has a 12,500 square ft. Home office in Sioux Falls South Dakota and a 100,000 square foot shipping warehouse. With over 40 employees and growing Valentus wants to be the Gold Standard in the Network Marketing Industry. With a growing product line and flag ship products that can launch any company Valentus plans to thrive.
Valentus has also purchased other network marketing companies and has taken some of their products and added them to its incredible product line.
Skinny Body Care was purchased in 2018 and added HiBurn8, Instant Youth and Skinny Fiber plus 6 other great products to our product line.

We then added the Patented Technology of the company Revii to the mix and are choosing some of their great products to be added to this line of products. We just purchased AliveMax and plan on taking a couple of the sprays to the masses.
We also have teamed up with some of the greatest formulators in the world. Dr. Joe Ahrends with the Patented Product Emulin. One of the greatest products ever created. Dr. Joe is a two-time Nobel prize nominee who created Emulin.
We also have teamed up with Alternative Labs and formulator Kevin Thomas and our new ThermoROAST Weight management Coffee and other incredible products that Kevin formulates exclusively for Valentus. Plus, other products like the More Detox Black Water and the SlimROAST Cocoa. We also have one of my favorite products formulated by Dr. Sean Mueller the Prevail Max Spray.
We also have other formulators that make these incredible product lines and have just launched a new Detox Tea with formulator George Hou. These products that people will consume and keep ordering and retailing month after month.
Valentus also has one of the industry's most lucrative pay plans and it shows by creating some of the top earners in the world. Just see for yourself and check out the compensation plan and you will see it is a plan that pays more people .. more money .. more often. This plan allows you to earn 7 different ways of Income.
We believe that Valentus is the total package and it shows with hundreds of Diamonds driving new cars and customers loving these products. Valentus ships products to over 90 countries and over the next 18 to 24 months will be one of the largest network marketing companies outside the US and Canada. We are going to be the Gold Standard in the Direct Selling Industry. Together we will Prevail with Valentus.
About Valentus
In Latin, the word "Valentus" means "prevail," defined as proving to be superior in strength, power, and influence. Recognizing that, we couldn't have picked a more fitting name for a company that strives to be the example in an industry that deserves a leader to follow.
Since day one, our focus, our passion, and our commitment have been to create a company, a product line, and an opportunity built on a foundation of integrity.
From creating significant levels of income, to building strong networks, healthy long-lasting relationships, making new friends, participating in activities you never even knew existed, having the time to do the things you love with the people you love to be with, VALENTUS can help you PREVAIL in ALL of your goals! For more information please visit www.valentus.com
Recommended Distributors Valentus