Vestige Marketing From India – Sales Up $108 Million in 2019
April 4, 2020
By Team Business For Home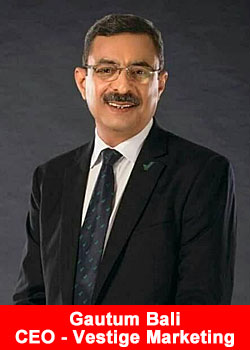 Vestige Marketing Pvt. Ltd., which started its operations in the year 2004, is now becoming a leading direct selling company dealing in world class wellness products. Vestige is constantly growing at a phenomenal rate every year. The growth rate in itself speaks volumes about the quality of the products, the marketing plan and the management that has been able to deliver such a rewarding and sustainable system.
Vestige is constantly expanding its product range to introduce innovative products every year, manufactured at state-of-the-art manufacturing facilities, which are GMP and Halal certified.
Vestige is an ISO 9001-2015 certified company and believes in world class service levels to all its customers. With over 2500+ online and offline sales outlets pan India, multiple international offices and several distributor centres, Vestige has been building a widespread network of distributors, which is constantly growing every year.
Vestige believes in empowering its members with the opportunity to lead their lives on their own terms. With the motto of spreading Wellth, i.e. spreading wealth through wellness, Vestige has continued to enrich the lives of everyone who is a part of the company and those who believe in its products.
Vestige Marketing Plan has been designed to be an equal business opportunity for all those who get associated with Vestige. The Marketing Plan ensures that you earn in proportion to the efforts you put in and provides benefits such as leadership bonuses and pool income. These incomes are further enhanced by combining the downline's performances so that it is always beneficial to create more leaders in your group. As the downline becomes successful, you become even more successful.
About Vestige Marketing
Vestige offers very rewarding bonuses for the efforts put into the business. The Vestige Marketing Plan is a cumulative plan where you never drop from the level of achievement and keep on achieving higher levels, i.e to say that your earlier efforts and achievements are always counted in your bonus calculations.
The Management Team at Vestige has the combined experience of pioneering Direct Selling in the country. The professionals involved in establishing direct selling companies and making them successful have turned entrepreneurs to bring forth the best of Opportunity and Products through Vestige. For more information please visit www.myvestige.com