Afnan Khalifa Achieves Platinum Ambassador Rank At Kuvera
May 22, 2020
By Team Business For Home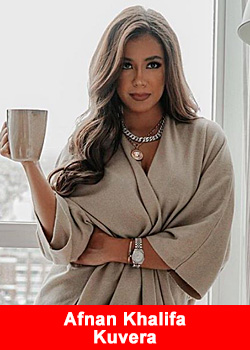 Afnan Khalifa became a six figure earner in less than six months with Kuvera. 
After shying away from the Network Marketing business for quite some time, Afnan attended a few events with her older brother, Rakan Khalifa, one of Kuvera's top leaders. Three years later, Afnan sat her brother down and told him to sign her up. After his hesitation, she said, "you're not leaving until I'm signed up!" After making the decision, Afnan jumped into the business full force, becoming one of the fastest six figure earners in the company!
Afnan is a 21 year old Palestinian born in Canada. She comes from a very hardworking family. Her immigrant parents inspired her to choose the right place to build her empire! She went to school, got a job, but always knew there was more to life. 
In November, 2019 Afnan took the leap with Network Marketing and joined Kuvera. She said,
"Network marketing is not perfect but it's better than any other job I've seen before. I love waking up everyday and taking care of people. I love waking up everyday to change lives. I love waking up everyday and being in control of my finances. It's a feeling that I have never felt before in any of my previous jobs.

It is crazy to think how far I have come in my life mentally, emotionally, and financially through network marketing. This industry pushes you to get uncomfortable every single day and challenge yourself. You hear so many different opinions about this industry, but only the people who are truly in it and doing it right are the ones who know what it is really about." 
Afnan decided to join Kuvera because she knew Kuvera is a subsidiary of a publicly traded company, Investview (INVU). Knowing Kuvera was tied to a public company made her feel like she was joining a secure company that wanted to grow long term. She also knew from her brother, Rakan, that Kuvera listens to both their customers and Distributors needs.
Afnan advises, 
"Make sure you are choosing the right company to grow with. A company that is always striving to be better and grow bigger. A company that can truly impact yours and others lives.

Kuvera is the main reason for my success. The support and tools we get are unmatched. I love that we teach investing and financial literacy. I'm grateful for this company and the whole team."
With Afnan's strengths in showing the opportunity in the right way so others see her same vision, and attracting daily new leads, she quickly hit the rank of Platinum Ambassador. She gives credit to her success to her team for all their support and to Kuvera for all the bonuses they offer to their Distributors. 
Afnan's biggest advice to those in the field is to,
"Stay the course, and be consistent. You will go through many obstacles throughout your journey, but all you have to do is be solution focused and consistent to your craft.

We are in the people business and the team is your family. Be a servant leader to the whole company, not only to your team. This is everyone's business and you can earn more in this than any job I've ever seen before. Put in the work. Success loves speed." 
Afnan is an inspiring example as she truly lives by her advice and challenges herself to get uncomfortable every single day. Making six figures in six month is remarkable, and we have no doubt she'll continue to find success as she helps people worldwide gain more financial stability through the Kuvera opportunity. 
About Kuvera
Kuvera, a subsidiary of Investview, delivers financial education, technology and research to individuals through a subscription-based model. Kuvera provides research, education, and investment tools designed to assist the self-directed investor in successfully navigating the financial markets. These services include research, trade alerts, and live trading rooms that include instruction in equities, options, FOREX, ETFs, binary options, crowdfunding and cryptocurrency sector education.
In addition to trading tools and research, Kuvera also offers full education and software applications to assist the individual in debt reduction, increased savings and budgeting.
Each product subscription includes a core set of trading tools/research along with the personal finance management suite to provide an individual with complete access to the information necessary to cultivate and manage his or her financial situation. For more information, please visit kuveraglobal.com