Beyond Is Gaining Momentum Fast
May 22, 2020
By Team Business For Home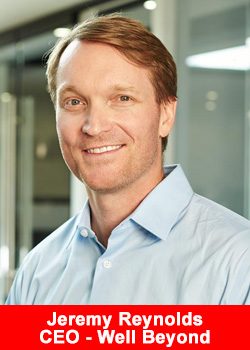 Beyond continues to go beyond the status quo. Still in its pre-launch phase, Beyond has been experiencing an amazing performance record in the last few months despite ongoing concerns of a global pandemic – with particularly incredible growth rates between March and April.
533% growth in new enrollments between March and April 2020.
442% growth in overall membership in the last 60 days (March & April)
44% of members paid for an upgrade in the last 60 days
1,427 Rank advancements in the last 60 days.
40 Platinum Ambassadors and above (over 150,000 in sales volume over rolling 4-week period)
The larger trend behind the success of Beyond is its unique multi-category experience with global digital technology products and high-impact health and wellness products – all powered by a revolutionary mobile app that is utterly disruptive in the network marketing space. Beyond attributes this staggering early momentum to their lineup of new products and strategic partnerships such as:
Revolutionary new Infinite Success mobile app
Wanderlust Travel Portal – discount travel booking engine
Excitement of New Products such as:
Best Day Ever/Best Month Ever health product sample packs with Well Beyond
Exclusive, patented "Protect" health supplement
Velocity Node leaseback program partner with Veratech
AI Trading with Beyond Wealth
Beyond members and leaders have been working extremely hard as well. Beyond has had two recent rank advancements featured in Business for Home in the last two weeks,  Dennis Kong achieving Executive Chairman and Joshua Denne achieving Presidential Ambassador.
Beyond continues to prove, when you have the right platform, all you need to do is engage in the process. The heavy lifting is done for you because the incredible executive team at Beyond has already crafted the perfect platform for you to succeed with the Infinite Success app. Now all you have to do is plug yourself in. This is truly a situation where the only thing standing between you and success is your work ethic.
The leaders of Beyond have architected its P5 methodology to create a legacy company. By giving members the platform and process to succeed, and the innovative products to drive profits, Beyond is truly enabling people to take control of their own financial freedom. With this proven system, we are confident that the momentum and success of Beyond will only continue to compound and grow.
Beyond's Official Broadcast will be June 5th and 6th. With the 5th being a paid leadership day –  Beyond has confirmed that industry leading trainers such as Eric Thomas, Rob Sperry and Frazier Brooks are part of their exciting lineup. Get your tickets here: https://www.wellbeyondlive.com/events/register/
To watch the free event on June 6th follow this link: https://www.beyondlive.global/broadcast/
The broadcast will begin at 11:00 AM in local markets of Japan (11:00 AM JST) , Europe (11:00 AM GMT) and United States (11:00 AM MST)
About Beyond
Beyond is a multi-category experience designed to give you a wide range of products and opportunities across our two main focuses – health and wealth – to create your perfect lifestyle.
Initially offering two unique branches and independent business ecosystems (tied together with a seamless rewards plan), Beyond is best understood as the sum of its parts: Beyond Wealth and Well Beyond.
With a focus on delivering truly remarkable health and wellness products, the Well Beyond system is unprecedented, reputable, and practical. Well Beyond provides a simple, uplifting, and focused way to live a healthier life with people who take pride in seeing the results and joy of others. The Well Beyond path leads to wellbeing and happiness – starting with its Best Day Ever sample program and ending with its Fearless Movement which gives people all the products they need to live a healthy, fulfilling lifestyle.
Bridging the gap between emerging digital technology products and accessibility, Beyond Wealth provides a variety of innovative wealth-building products crafted for people seeking to enhance their lifestyles. Our revolutionary digital products provide cutting-edge methods of generating residual income. With products ranging from our multi-currency wallets, to programs with device leasebacks, to discount travel portals, there is something for every entrepreneur to explore.
With these two categories, and a revolutionary mobile app designed to deliver many more opportunities in the future, the Beyond brand is one of creation – creating opportunities for all types of consumers and business-builders to seek out what works for them and build within the most effective ecosystems.