Callie And Geoff Elder Reach 4-Star Executive Rank At Cloud 9 Life
May 11, 2020
By Team Business For Home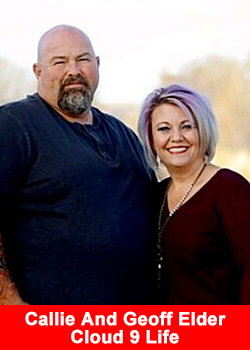 New 4-Star Executives Callie and Geoff Elder have never felt more energized and youthful.
The couple resolved to get healthier so they could keep up with their two young grandsons and watch them grow up. After an introduction to Cloud 9 Life and researching the products and business opportunity, they couldn't find one reason not to give it a try.
Cloud 9 Life's focus on the pivotal role of gut health in immunity, weight, mood, energy and much more has had a life-changing effect on the couple's health, financial outlook and quality of life.
"Neither Geoff or I have ever tried a product that you feel the effect within HOURS, not days or weeks. Almost instantly we felt more energy. We have each lost more than 15 pounds and have more energy than we have had in 20 years. We feel incredible."
says Callie.
Callie and Geoff are navigating this uncertain time with next-level health and an additional stream of income through Cloud 9 Life's networking business model. The work-from-anywhere opportunity, socially conscious values and cloud-based platform has made their business incredibly easy to run and share with others.
"We love being able to not only show others how to improve their health and quality of life, but also how to fund their hobbies, supplement their income during difficult times or even bring in a sustainable income long term. With the Cloud 9 Life app, it's as simple as choosing a video or PDF, selecting the recipient, sending and following up. What better way to make money!"
When so many have lost jobs Callie and Geoff are maintaining and even increasing their income.
"You have absolutely nothing to lose. The investment price to start your business is less than a dinner out. But what you gain in potential income, connections and improved health is priceless."
About Cloud 9 Life
Established in January 2020, Cloud 9 Life is a vehicle to help people take control of their health and their finances. Committed to providing truly exceptional products, customer service, and tools to support customer success Cloud 9 Life has made being a business owner more accessible, more attainable, and more fun than ever before. Cloud 9 Life is a privately owned company with headquarters in Naples, FL.USA. For more information, visit Cloud9Life.com