Industry Leaders Marshall Fortson, Ashley Cooper, and John & Patrice Jones Join FES
May 25, 2020
By Team Business For Home
Marshall Fortson, Ashley Cooper, and John & Patrice Jones have partnered up to join Forces with Financial Education Services. (FES)
Records are already being broken as Marshall Fortson achieved the position of Vice President his first week with the company. Marshall is used to breaking records as he built a team of 100,000+ distributors with his last company.
"I've been winning at a high level in this industry for over a decade, I have never seen a platform like this, they should have never showed me this. We have finally found a home where our team can all win at a high level. This will be the biggest build in our career." 
says Marshall.
Ashley Cooper was the Top earner and producer the last 4 years with their prior company. She is off to a phenomenal start as she has been promoted 5 times in her first week with the company and achieved the position of Executive Sales Director.
Ashley said,
"I've never seen a comp plan that is so rewarding. We finally found a company that aligns with our morals. The owners genuinely want to see people win at a high level"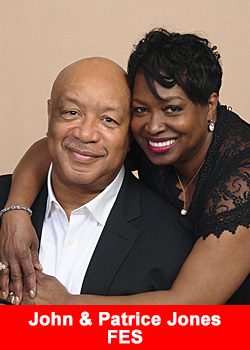 Co-Founders of the Millionaires Club, John & Patrice Jones are coming out of retirement. This legendary couple are Multi-Million Dollar Earners in the industry who have duplicated their success with several documented million dollar earners.
John & Patrice have had incredible, overwhelming success and impact in the industry with the companies they partnered with.
John O. Jones is highly acclaimed for his dynamic teaching on how to create extraordinary income as well how to create lasting legacies for individuals, companies, and non-profit institutions.
Their documented success spans from the late 90's to 2018 when they retired from the industry. They are returning to the industry for "One Last Dance"  because of this compelling opportunity with FES. In true Jones fashion, they too have achieved several promotions in their first week with FES.
The Jones sincere belief: "If you encourage and empower others to succeed, your success is guaranteed"
About Financial Education Services
Financial Education Services has been helping consumers achieve their highest financial potential for over 10 years.
Our ever-expanding service line is consistently evolving to meet the demand towards a solution for financial issues consumers face today. We've covered the spectrum to create programs that can offer assistance to various pieces of the financial puzzle, with easy-to-use programs and the highest level of customer support.
By including educational resources along the way, we aim to help you meet your financial goals while also providing you with the tools for long-term, consistent success.
Our career opportunity provides a foundation for individuals and teams that are driven, highly motivated and looking for access to immeasurable success- while positively changing lives across the country. For more information please visit www.myfes.net
Recommended Distributors Financial Education Services