Mo Kumarsi Achieves Platinum Ambassador Rank At Beyond
May 27, 2020
By Team Business For Home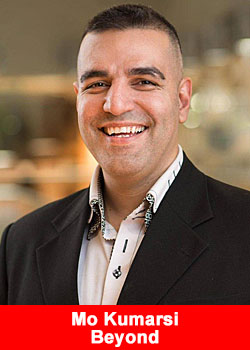 Mo Kumarsi currently lives in the city of Vancouver in British Columbia, Canada.  He has introduced so many people to the Beyond opportunity in many countries such as Singapore, Malaysia, Uganda, South Africa, Canada, and more.
What accomplishments does he have for his team?
He achieved the rank of Platinum Ambassador ($150,000 is sales volume in a rolling 4-week period), after joining Beyond less than a month and a half ago during the pre-launch phase of Beyond.
Mo Kumarsi came to Canada as an immigrant at age 10. He always had a business-minded entrepreneurial spirit. At age 11, he started his own paper route and soon had one of the biggest routes in Mississauga, Ontario and had 3 other paper boys working for him.
Later in his life, between the ages of 23-30, he started several traditional businesses including a local chain of laundromats, which led him into the cleaning and carpet cleaning business. He turned "Cleaning with Love" into one of the three biggest cleaning companies in the province, the highest rated in Canada, and the most awarded business in the trade field in Canada.
What brought Mo into the network marketing space?
Mo has also been part of 3 different network marketing companies building teams of over 100,000 people in his career and earning 7 figures in the space. Mo is passionate about direct sales because he loves helping people. According to Mo, "what's so special about the network marketing space is that you can help ordinary people do extraordinary things with little startup capital."
We sat down with Mo to ask him "Why Beyond?" he said:
"When I look at a company, I look at three pillars. One being the founders – the people behind it. Second being the timing and having the first-mover advantage. Third, do they have a proprietary product? A revolutionary, disruptive product that is going to be disruptive in the industry?"
"We have all three," Mo continued to explain. "With leadership like Jeff Graham, Jeremy Reynolds, Travis Bott, and our partnership with CoinZoom and Todd Crosland, we have a corporate staff with many years of business experience, with incredible leadership, and huge success in business and direct sales."
Speaking about the last two pillars, Mo added, "As for the timing – we'll be launching June 6 and we are now still in the pre-launch. And our product is bar-none. We've got the Infinite Success mobile app that's going to revolutionize the industry – it's like a money making machine that's absolutely disruptive."
Mo concluded by asserting that "this is the best opportunity that I've come across – and I'm all in. That's why I came out of retirement – to go full-time with Beyond and I'm very excited about this opportunity."
Mo and other top leaders are ecstatic for the Official Launch of Beyond taking place on June 5 and 6. For more information and the ability to sign up, visit this link: https://www.wellbeyondlive.com/events/register/
* Disclaimer: Individual results will vary depending on successful product sales, which requires hard work, dedication, good sales skills, and leadership. Any bonuses, commissions, or other amounts reflected shall not be considered as guarantees or projections of your actual earnings or profits with this business.
About Beyond
Beyond is a multi-category experience designed to give you a wide range of products and opportunities across our two main focuses – health and wealth – to create your perfect lifestyle.
Initially offering two unique categories and independent business ecosystems (tied together with a seamless rewards plan), Beyond is best understood as the sum of its parts: Beyond Wealth and Well Beyond.
With a focus on delivering truly remarkable health and wellness products, the Well Beyond system is unprecedented, reputable, and practical. Well Beyond provides a simple, uplifting, and focused way to live a healthier life with people who take pride in seeing the results and joy of others. The Well Beyond path leads to wellbeing and happiness – starting with its Best Day Ever sample program and ending with its Fearless Movement which gives people all the products they need to live a healthy, fulfilling lifestyle.
Bridging the gap between emerging digital technology products and accessibility, Beyond Wealth provides a variety of innovative wealth-building products crafted for people seeking to enhance their lifestyles. Our revolutionary digital products provide cutting-edge methods of generating residual income. With products ranging from our multi-currency wallets, to programs with device leasebacks, to discount travel portals, there is something for every entrepreneur to explore.
With these two categories, and a revolutionary mobile app designed to deliver many more opportunities in the future, the Beyond brand is one of creation – creating opportunities for all types of consumers and business-builders to seek out what works for them and build within the most effective ecosystems. Follow Beyond on Youtube: Beyond Official Youtube Channel