WelCel Names Tony Andrews COO
May 11, 2020
By Team Business For Home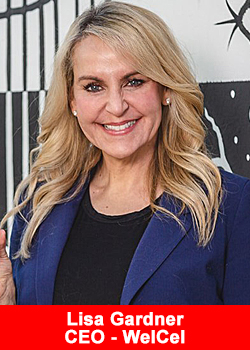 Tony Andrews has been tabbed to lead what is touted as Texas' only 100% physician formulated hemp CBD oil product line as he was recently appointed chief operating officer of WelCel, founder by Lisa Gardner and Trey Philips.
Andrews comes to WelCel after success as the chief mobility officer at nationally ranked direct sales company Stream Energy. The company was ranked No. 23 in the 2018 Direct Selling News Global Top 100 with more than $8 billion in lifetime revenue.
Andrews was also previously the chief mobility officer for RadioShack, overseeing $1.95 billion in revenue generating products and services.
"CBD is the next frontier in the market of innovative product development and holistic wellness," Andrews said. ""I am proud to join a team with a mission to provide the highest standard in product offering and customer experience."
In all, Andrews brings more than 25 years in executive operations leadership, excelling at identifying, planning for, and leading teams through periods of accelerated growth. In his role as COO of Littlefield, Texas-based WelCel, Andrews will assume responsibility for all the operational touch points along both the brand partner and customer journey.
His background and experience in product innovation, operations, leadership training, and strategic planning, will be the cornerstone of the company's expansion plan launch.
 "This is a monumental addition for our company. We are excited for the unlimited growth potential that Tony will help construct for WelCel through his experience and strategic mindset,"
WelCel President and co-founder Trey Phillips said.
"With a goal of National expansion in 2020 in our sights, we know that Tony will be instrumental in building a strong and seamless foundation for success." 
Currently featuring CBD oil tinctures, vegan soft gels, a topical roll-on formula, and pet-specific hemp CBD oil blend, WelCel's goal is to bring medical-based evidence and credibility to the forefront of the booming industry. They infuses CBD with natural ingredients that harness proven benefits, including arnica, ginger, peppermint, turmeric, MSM, and essential oils.
About WelCel
WelCel™ is more than a company. It's a new movement for global well-being that was born from the vision and passion of its CEO, Dr. Lisa Gardner — a board certified, surgically trained physician. Her journey of becoming an award-winning doctor wasn't easy, but it was on this journey where she ultimately discovered her purpose and became the compassionate, successful, and inspirational person she is today.
Originally from England, Dr. Gardner moved to the United States with her family when she was nine, and she became a citizen when she was seventeen. Her dream of becoming a doctor forged an unwavering resolve inside of her to become the best version of herself so she could help others do the same.
During her 15-year tenure as a highly sought after and regarded ObGyn and surgeon in Fort Worth, Texas, Dr. Gardner saw deep into the lives of thousands of women while providing them with the highest level of medical care. For more information please visit www.welcel.com