Ali Boukhatem And Valerie Durieux Achieve President Rank At PM International
June 20, 2020
By Team Business For Home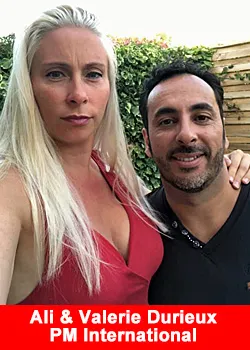 Coming from different paths in the MLM industry this veteran powerful couple, Ali Boukhatem and Valerie Durieux, has created a massive wave in the network marketing community by achieving the incredible milestone of Silver Presidents team in an incredible 2,5 months with their laser focus and passion driven explosive start the amount of lives impacted has been inspiring to see.
On the second month, 7 New International Marketing Managers, 8 Vice Presidents, 1 New President, more than 250 000€ sales turnover in one month, 100+ customers, few incentive trips won in Germany, Zanzibar, Europe tour..).
With over 20 years in the networking marketing industry, Ali, has been key in helping multiple billion-dollar international companies expand sales and operations throughout Europe primarily as a corporate executive. His experience partnered with Valerie's decade long success as a top MLM leader building structures on 1000's helping many people reach their dreams no matter the circumstances.
In early April Ali and Valerie took a decision to make a power move for their family and their future by leaving the corporate world and combining their passion and expertise to create a legacy for all those they share the powerful opportunity of the PM International foundational legacy by turning the current global instability into solution driven opportunity to impact lives.
Ali and Valerie stated:
"The world has always been driven by Visionary People and Real Leadership… Today's economic challenges are putting many people into fundamental questions about themselves, about their lifestyle, about what are the Important things in Life.  The Direct Sales and Network Marketing Industry are again showing the World that possibilities are always Here when there is a Willing.
We are so proud and humble to have identify people that are having our same high standards and are willing to make a difference. We all know that success in this industry is based on success of others, with principles, values, good intentions and commitment to serve others.
This Quick Start is the results of the tremendous and Powerful Team Work and Leadership of Erik De Willde & Carine Huppermann  , Damien Trehoux, Aurelie Devos, Genevieve Negleman & Jean François  Marechal, Liza Elisabeth Espinho  Myriam Dumont, Anne Marie Andrey, Anne Deprez and Olivia Igwe "… We love you Team.
About PM-International AG
PM-International AG is one of Europe's largest direct marketing companies in the areas of health, wellness, and beauty, based in Schengen, Luxembourg. In 2017, the corporate group registered a total turnover of 632 million US-Dollars, corresponding to an increase of 37.2 % compared to the previous year.
Founded in 1993, PM-International AG develops, produces and markets high-quality, premium dietary supplements and cosmetics through its own brand FitLine® – many of which have a patented technology.
The Nutrient Transport Concept (NTC®) represents the company's core competency: it delivers the nutrients exactly when they are needed and where they are needed – to the cellular level, from inside and out. To guarantee a continuous high product quality, the products are regularly and independently tested by TÜV SÜD ELAB.
End customers can review the analyses directly on the TÜV SÜD ELAB website, by scanning the QR code on the product packaging. No other competitor offers this level of transparency.
More than 400 million FitLine® products have been sold worldwide. Many customers, including several top athletes, regularly make use of FitLine® products. At the same time, the corporate PM-International group is the official supplier of numerous large sports associations, such as the German Ice Hockey Federation (DEB), the German Ski Association (DSV), and the Austrian Sports Aid (ÖSH).
Further information can be found under: www.pm-international.com
Recommended Distributors PM International