Brian And Nicole Jenkins Achieve 6 Star Executive Rank At Cloud 9 Life
June 2, 2020
By Team Business For Home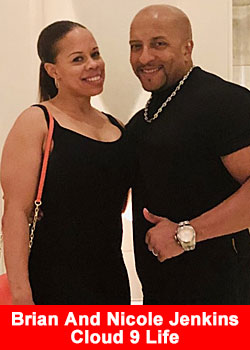 Brian and Nicole Jenkins are results-driven, business and fitness professionals who have coached and trained over 100,000 clients, including high-profile professional athletes, body builders, fitness competitors and actors. The couple have blazed full steam ahead in their passion to help people look better, feel better and live better.Brian And Nicole Jenkins
"Our mission is to motivate our client base to become the best versions of themselves through exercise and proper nutrition. Our passion for health and wellness is what attracted us to Cloud 9 Life and the fact that the product line is on trend and ahead of the curve in many areas."
Over the years Brian and Nicole have tried a variety of mainstream supplement brands and found that the benefits were not worth the cost. They realized they found something different with Cloud 9 Life, especially Nicole who was able to break through a weight-loss plateau.
"I hadn't been able to lose a single pound in over a year due to an underactive thyroid and hormonal imbalances.

I didn't know what to expect with Cloud 9 Life products because I had already tried everything from supplements, diets and even training twice a day. I've already lost 22 pounds this year. I feel amazing and I'm extremely happy with my results!"
Helping team members climb the ranks quickly and celebrating their success has created excitement and major momentum in Brian and Nicole's organization.
The couple reached 6-Star executive in just five weeks and their business is growing in the face of an uncertain economy. The difference has been Cloud 9 Life's focus on gut health and the opportunity to create additional income from anywhere with the Cloud 9 Life app.
"We've never been a part of a network marketing company where we've seen so many leaders develop within weeks; even people who have never tried network marketing in the past.
While other businesses are cutting back and shutting down, our business is growing. We're helping people improve their immune health, while creating an additional stream of income in the household. It feels amazing to have the opportunity to help people improve their physical health and financial health at the same time."
About Cloud 9 Life
Established in January 2020, Cloud 9 Life is a vehicle to help people take control of their health and their finances. Committed to providing truly exceptional products, customer service, and tools to support customer success Cloud 9 Life has made being a business owner more accessible, more attainable, and more fun than ever before.
Cloud 9 Life is a privately owned company with headquarters in Naples, FL. For more information, visit Cloud9Life.com