Lara Bolton From Canada Achieves 4 Star Rank At Cloud 9 Life
June 8, 2020
By Team Business For Home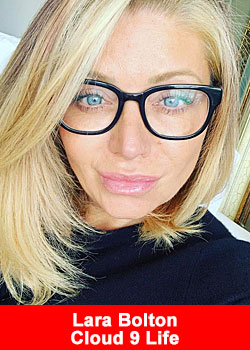 Lara Bolton has spent the last thirty years in an industry she is extremely passionate about, Direct Sales.
Her first 15 in the field as a distributor and her last 15 as a Corporate Executive. Recently she has made a life changing decision to leave her established career in corporate direct sales for an opportunity to chart a new and exciting course as a Cloud 9 Life Executive. Her results on the products was nothing short of game-changing and she knew she had to help others discover what she had.
"I have decided to pursue my dreams with a company that checks all the boxes for me, the right products (backed by science that work to help with gut health and the immune system), the right time (everyone understands the need to be healthy and have a rainy day fund), the right opportunity (rewarding everyone, regardless of your background), the right people (getting to partner with leaders in our industry) and the tight Corporate Team (40 years of experience building companies and teams)"
says Lara.
"Having experienced leaders like Lara step away from a corporate role to join our company as an Executive in the field is very exciting!  It continues to validate that we are the right company, with the right products, system and opportunity to help people achieve their goals"
says A.K. Khalil CEO and Co-Founder of Cloud 9 Life.
Lara's absolute belief that she had found the RIGHT company has helped the 4-Star Executive quickly climb the ranks at Cloud 9 Life. In fact, it wasn't hard for Lara to find five people a day to share the opportunity with, especially with the company's ground breaking technologies where the entire business can be run from her mobile phone through the Cloud 9 Life app.
"I would connect with my network and ask what gets them up in the morning and feeling great. I would find out if health or finances was a concern? Then I would offer Cloud 9 Life as a solution and show them what was possible. First of all, it is a ground-floor opportunity.
Secondly, it seems everyone I know understands something about the value of getting your gut in check and building your immune system. That makes it easy to chat about these products and to explain what makes us different."
The power and positivity of network marketing is not lost on Lara. Since she came off the streets many years ago, network marketing has afforded Lara the chance to take charge of her life, grow in personal development and earn an income that has allowed her to support her children and give back to the homeless.
I love changing people's lives. I love that Cloud 9 Life gives back to communities that directly impact their distributors through their Purchase to Purpose program, and I love helping people dream big and coaching them in their success. One of the things I am most often quoted saying is, 'Dream big 'cause small dreams have less magic.'"
About Cloud 9 Life
Established in January 2020, Cloud 9 Life is a vehicle to help people take control of their health and their finances. Committed to providing truly exceptional products, customer service, and tools to support customer success Cloud 9 Life has made being a business owner more accessible, more attainable, and more fun than ever before. Cloud 9 Life is a privately owned company with headquarters in Naples, FL. For more information, visit Cloud9Life.com