Michael And Tami Renz Achieve Double Diamond Rank At Valentus
June 9, 2020
By Team Business For Home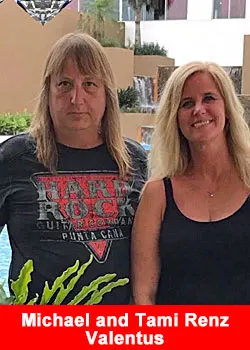 Michael and Tami Renz from the USA and have been in network marketing for the past 10 years.
Upon their achievement they stated:
We have been in Valentus for 20 months and achieved Diamond and Double Diamond within the first year.
"Mike went full time in network marketing after being downsized from a Sales Executive position for a Fortune 500 company. Our goal was to work network marketing to build a 'plan B', where you were rewarded and recognized for your efforts.
A few companies and years with some successes and some bumps and bruises into network marketing, our best friends, Triple Diamond Andrew and Nancy Burling talked to us about Valentus.  We flew to the conference in Vancouver, BC and we knew very quickly that this was 'home' for us.
Not only does Valentus have a great compensation plan with awesome products, the Owners, Dave and Joyce Jordan's passion is infectious, which is tightly integrated and shared throughout the leadership and the corporate staff.
Dave always says 'Valentus is built by Distributors for Distributors' and this culture is woven throughout. With this type of company, we found it easy to promote and recommend.
In August 2019, Tami's executive position with a Health Insurance company was eliminated. Instead of jumping right back into a job search, we realized that goal of having a 'Plan B' was built and financially we were going to be ok. So, we took a couple of months and traveled in our diamond bonus car, a 2012 Shelby GT 500 Convertible (This is Mike's favorite part of the many bonus programs and Tami's is the trip to the Bahamas.)
Our favorite thing about network marketing is meeting new people and helping them achieve their goals, whether it is financial or rank achievements and/or time freedom goals but most of all seeing our team members grow and develop into leaders.
We believe there has never been a better time to get involved with Valentus, it is a growing, global company that will become a premier brand in the direct selling industry. Timing is everything".
About Valentus
In Latin, the word "Valentus" means "prevail," defined as proving to be superior in strength, power, and influence. Recognizing that, we couldn't have picked a more fitting name for a company that strives to be the example in an industry that deserves a leader to follow.
Since day one, our focus, our passion, and our commitment have been to create a company, a product line, and an opportunity built on a foundation of integrity.
From creating significant levels of income, to building strong networks, healthy long-lasting relationships, making new friends, participating in activities you never even knew existed, having the time to do the things you love with the people you love to be with, VALENTUS can help you PREVAIL in ALL of your goals! For more information please visit www.valentus.com