Scotty Huss Achieves Executive Ambassador Rank At Beyond
June 1, 2020
By Team Business For Home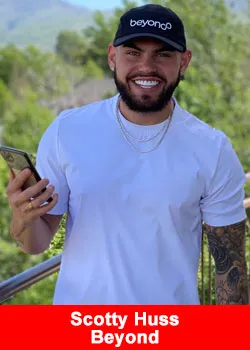 Scotty Huss, originally from Miami, Florida, had been in the network marketing industry for three years before making his first six-figure income – proving that hard work and dedication takes time, but pays off.
Along the way, Scotty has helped three people earn a six-figure income and hundreds of others earn thousands per month with leaders all over the United States, Columbia, Spain, Portugal, Puerto Rico, London, United Kingdom, and Mexico.
Scotty's vision for his organization is 100 six-figure earners before 2020 comes to an end. He's well on his way, as Coltlen Keithley had a six-figure income in his organization in only his first 10 days.
"I'm willing to go above and beyond – travel and do events in business reception meetings to make sure that my team and every person in my organization achieves the levels of success that they desire."
Now, Scotty achieved the rank of Executive  Ambassador within his first 20 days in the Beyond platform while Beyond was still in its pre-launch phase.
The four main tips Scotty would give to young entrepreneurs or people looking for success are:
Always be consistent
Practice discipline
Study the spiritual side of success,
And just as fast as you grow, be sure to also grow your leaders.
"Beyond was so attractive to me because I saw the right people at the right products with the right company in the right platform that could take me through the right process to become the person that I wanted to be."
"I would suggest getting involved in Beyond because there's nothing else like it in the marketplace. It's disrupting the industry from a perspective of health, wealth, leadership, innovation, and upgrading your status quo in network marketing. Here in Beyond I see leaders that have true character, generational wealth, and truly care about other people."
Scotty is particularly attracted, like many others, to the Infinite Success app and the Beyond products because they are disruptive, innovative, and outside of the ordinary so even the average person can get involved and win on a health and a wealth standpoint.
"The infinity line is the most disruptive technology in the space and I have never seen anything quite like it."
"I believe that this is the number one opportunity that you can get involved in in the network marketing space right now and I wouldn't have partnered up with his company if it wasn't. I'm so excited to see you guys very soon in a city state or country near you!"
About Beyond
Beyond is a multi-category experience designed to give you a wide range of products and opportunities across our two main focuses – health and wealth – to create your perfect lifestyle.
Initially offering two unique categories and independent business ecosystems (tied together with a seamless rewards plan), Beyond is best understood as the sum of its parts: Beyond Wealth and Well Beyond.
With a focus on delivering truly remarkable health and wellness products, the Well Beyond system is unprecedented, reputable, and practical. Well Beyond provides a simple, uplifting, and focused way to live a healthier life with people who take pride in seeing the results and joy of others. The Well Beyond path leads to wellbeing and happiness – starting with its Best Day Ever sample program and ending with its Fearless Movement which gives people all the products they need to live a healthy, fulfilling lifestyle.
Bridging the gap between emerging digital technology products and accessibility, Beyond Wealth provides a variety of innovative wealth-building products crafted for people seeking to enhance their lifestyles. Our revolutionary digital products provide cutting-edge methods of generating residual income. With products ranging from our multi-currency wallets, to programs with device leasebacks, to discount travel portals, there is something for every entrepreneur to explore.
With these two categories, and a revolutionary mobile app designed to deliver many more opportunities in the future, the Beyond brand is one of creation – creating opportunities for all types of consumers and business-builders to seek out what works for them and build within the most effective ecosystems. Follow Beyond on Youtube: Beyond Official Youtube Channel