Eva Busqueta From France Achieves Diamond Ambassador Rank At Kuvera
July 27, 2020
By Team Business For Home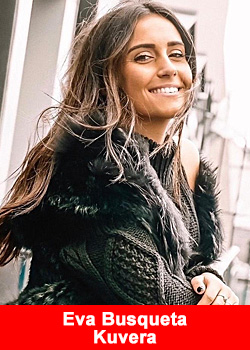 Maxime Pierre stated upon Eva Busqueta's rank advancement:
"I'm so proud and happy to announce that Eva Busqueta just dropped Diamond Ambassador's position. Already on the presidential ambassador race, you are amazing there are no other words!
Unbelievable because you've always been moving forward with good intentions, doing good around you, helping people flourish and grow, your authenticity makes you unique. 
You don't want to be like everyone else, you do nothing like everyone else, you develop your business aligned with your values. You don't care that people know you, congratulate you, as long as others around you have the recognition and success they deserve. But today is your gratitude! Because you deserve it!
You don't just inspire us, but a lot of people around you. Because what you do with your teams (+ 90 % customers), you are one of the few people in France and Europe to do it. And we need to be inspired by you.
Income that exceeds most (see compensation plan), extraordinary retention and relationships with your magical partners / friends. Congratulations to them who are doing remarkable work as well as to all your customers who are very hard work.
Let the magic happen now and heading to the Presidential Ambassador."
About Kuvera
Kuvera, a subsidiary of Investview, delivers financial education, technology and research to individuals through a subscription-based model. Kuvera provides research, education, and investment tools designed to assist the self-directed investor in successfully navigating the financial markets.
These services include research, trade alerts, and live trading rooms that include instruction in equities, options, FOREX, ETFs, binary options, crowdfunding and cryptocurrency sector education.
In addition to trading tools and research, Kuvera also offers full education and software applications to assist the individual in debt reduction, increased savings and budgeting.
Each product subscription includes a core set of trading tools/research along with the personal finance management suite to provide an individual with complete access to the information necessary to cultivate and manage his or her financial situation. For more information, please visit kuveraglobal.com