Layth Samarah Achieves Executive Ambassador Rank At Beyond
July 7, 2020
By Team Business For Home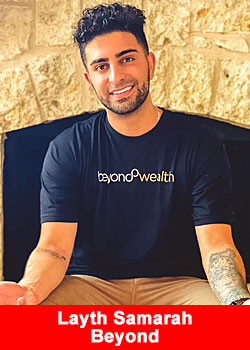 Layth Samarah, 25, has been in the network marketing industry for only 5 short years.
He and his wife, Gina, both worked in various roles in the corporate world before discovering network marketing. They were initially drawn to the unlimited possibilities that network marketing offered.
Layth lets his work ethic speak for itself. He owns two companies outside of network marketing, and was able to reach the rank of Executive Ambassador in less than two weeks with Beyond. In Layth's words,
"you write your own check."
Layth attributes his success to the selfless leadership of others in his organization like Scotty Huss and Coltlen Keithley.
"They are selfless leaders. They will eat last and make sure their team eats first."
We asked Layth to supply four pieces of advice for other young leaders looking to find success in network marketing.
No matter how bumpy the ride gets, stay committed.
Stay focused.
Brand yourself.
Don't compare your chapter to someone else's chapter.
Layth is most excited about Beyond's strategic alliance with CoinZoom and the multi-currency wallet which allows users to store, convert, and spend multiple currencies including cryptocurrency.
"You no longer have to convert your cryptocurrency to fiat currency in order to transact items."
Layth believes that the final days of Beyond's pre-launch phase are particularly crucial.
"When you have the ability to have shares in a long-term company that has the potential to become a multi-million dollar company, do it! Timing in business is everything. This company is allowing you to be a shareholder for life. Take advantage"
* Disclaimer: Individual results will vary depending on successful product sales, which requires hard work, dedication, good sales skills, and leadership. Any bonuses, commissions, or other amounts reflected shall not be considered as guarantees or projections of your actual earnings or profits with this business.
About Beyond
Beyond is a multi-category experience designed to help you achieve your best day ever by offering a wide range of products and opportunities across our two main focuses – health and wealth.
Initially offering two unique categories and independent business ecosystems (tied together with a seamless rewards plan), Beyond is best understood as the sum of its parts: Beyond Wealth and Well Beyond.
With a focus on delivering truly remarkable health and wellness products, the Well Beyond system is unprecedented, reputable, and practical. Well Beyond provides a simple, uplifting, and focused way to live a healthier life with people who take pride in seeing the results and joy of others. The Well Beyond path leads to wellbeing and happiness – starting with its Best Day Ever sample program and ending with its Fearless Movement which gives people all the products they need to live a healthy, fulfilling lifestyle.
Bridging the gap between emerging digital technology products and accessibility, Beyond Wealth provides a variety of innovative wealth-building products crafted for people seeking to enhance their lifestyles. Our revolutionary digital products provide cutting-edge methods of generating residual income. With products ranging from our multi-currency wallets, to programs with device leasebacks, to discount travel portals, there is something for every entrepreneur to explore.
With these two categories, and a revolutionary mobile app designed to deliver many more opportunities in the future, the Beyond brand is one of creation – creating opportunities for all types of consumers and business-builders to seek out what works for them and build within the most effective ecosystems.  Beyond YouTube Channel.