Lily Zaremba The Youngest Female Platinum Ambassador Leader In Kuvera
July 4, 2020
By Team Business For Home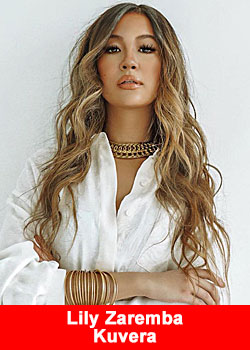 Lily Zaremba lives by the motto: "Do today what others won't, to have tomorrow what others don't, while others are sleeping you are working, while others are having fun you are working, while others are laughing you are working. Why? Because it's for your future, it's for your legacy, it's for your family."
Lily's journey with Kuvera has had many highs and lows. When she first started with Kuvera she was just a 19 year old university student from Ryerson, Canada. She had no experience with the financial markets, so learning how to invest and trade was a completely new journey for her.
"My whole life I stayed away from network marketing because I had watched my mother fail multiple times. But with Kuvera, I started without hesitation. I was just a hungry, young girl who had big dreams, not only for myself, but for my family as well."
With her drive and consistency, she had a lot of success when she first joined Kuvera.  After just 9 months, she had already helped create a team of 200+ people, and she loved making the extra income. "I felt on top of the world."
Lily quickly learned that in business you can't always experience the good. She learned first hand that you must experience the bad to experience growth.
"When February hit I was at my lowest point, financially, mentally, emotionally. The company had made some major changes that I found amazing for customers and distributors, but much of my team could not adapt to the changes. So I had to rebuild from ground zero and start over."
Lily knew that with passion, purpose, and the skills that she had used to build her initial team, she could do it again. Lily never backs down.
"I had to lean on what had brought me to Kuvera in the first place which is the value of the products. The financial education and the results from following market experts, speaks for themselves. The fact that Kuvera is a subsidiary of a publicly traded company and the transparency that provides  also reignited my confidence and belief."
With this attitude and drive, 4 months later, at just 20 years old Lily Zaremba became the youngest Platinum Ambassador in North America and the youngest female Platinum Ambassador company wide. Lily told herself, "your greatest test in life will be your greatest testimonial."
Lily loves to use Kuvera's ALERTSone as her flagship product.
"Any new person joining can see the process and learn how to follow alerts and see trades within their first 24 hours."
Lily tells her team to always remember their "why". She believes if she can teach them to care more about the impact than the money, her team will go far. "This business rewards people who are loyal, who stay the course, who are consistent and who truly care."
About Kuvera
Kuvera, a subsidiary of Investview, delivers financial education, technology and research to individuals through a subscription-based model. Kuvera provides research, education, and investment tools designed to assist the self-directed investor in successfully navigating the financial markets. These services include research, trade alerts, and live trading rooms that include instruction in equities, options, FOREX, ETFs, binary options, crowdfunding and cryptocurrency sector education.
In addition to trading tools and research, Kuvera also offers full education and software applications to assist the individual in debt reduction, increased savings and budgeting.
Each product subscription includes a core set of trading tools/research along with the personal finance management suite to provide an individual with complete access to the information necessary to cultivate and manage his or her financial situation. For more information, please visit kuveraglobal.com