Power Couple Todd & Kathy Humpherys Achieve Executive Chairman Rank At Beyond
July 14, 2020
By Team Business For Home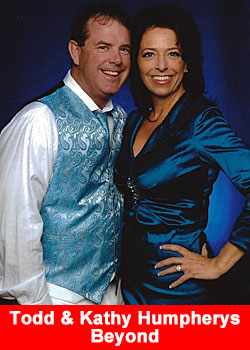 With 18 years of experience in the network marketing industry, Todd and Kathy have seen it all. They've been able to earn millions, and help others do the same.
"We have been able to learn almost every aspect of the industry including creating compensation plans, training systems, and building platforms."
Now they have joined Beyond because it is truly a special opportunity.
"We were so attracted to Beyond because of the founders and their vision, authenticity, and integrity. They have the foresight to not stay where the industry is but to go where it's headed and to get there first! They have created a fair playing field for everyone all around the globe. They truly understand when you can create something for the masses, we will all succeed."
Todd and Kathy have an amazing team all over the world, with members in over 50 countries. They want to help each of their team members get closer to their best day ever and for a lot of people that means achieving wealth, but they know that success varies for each person.
"We each get to determine what our best day ever means to us. The meaning of success is different for everybody. We are here to help our team, lock arms with them, and match effort for effort.

Our vision is to create happy, thriving business owners all over the globe. We are focused on helping people have their best day ever, which leads to their best month ever, and on to their best years ahead! We will have thousands of families freed from the bondage of debt and stress – giving them hope that they too can have the life of their dreams."
Todd and Kathy are great leaders themselves who are more than capable of recognizing the same qualities in others, including the founding team at Beyond.
"The founders are just great human beings who are always ready to roll up their sleeves and work side by side with their field leadership. They really listen to their leaders and are always open to feedback. We feel valued and have their full support as we build. The executive staff is second to none with decades of success and experience. They truly know what it feels like to be in the trenches and know what it takes to build a strong international team! They lead by example and have set a strong expectation of what the culture will be. Edification, support, and a strong backbone will lead to one of the greatest companies we have seen in decades."
Beyond will also be made great by its product offerings. Todd is most excited about the CoinZoom platform and all its applications for bringing cryptocurrency into the real world.
"The strategic partnership with Beyond and CoinZoom is a game changer! After being in the cryptocurrency industry for 5 years now I have seen a lot. The entire CoinZoom ecosystem is something I haven't seen in this space before: having a legit exchange that's FDIC insured and backed by Visa. And the ZoomMe feature is going to change the way we use money! Whether you are familiar with crypto or just hearing about it for the first time, this is a fit for everyone."
Kathy, on the other hand, is excited about the wide variety of health and wealth products combined with an opportunity that anybody can take advantage of.
"There is truly something for everyone. The average person has a chance to come in, do the work, and be the next generation of leadership in this industry through Beyond. It's something I have never seen in my 18 years!"
One thing is for certain: they are both excited about the timing of Beyond's launch that took place on Saturday July 11, 2020.
"Being in at the beginning is special. The timing is perfect. We have helped launch a few companies and it's a super exciting experience. You are not only building a business, you are helping lay the foundation of the next legacy company! The Infinity Line is going to change the way we do network marketing and you get to be one of the first to experience this once-in-a-lifetime launch!"
Beyond's Infinity Line system has really been drumming up a lot of excitement and momentum and it comes complete with a mobile app that truly puts your entire business in the palm of your hand.
"The Infinite Success app with the Infinity Line is the most powerful funnel and sampling system I have ever seen, and it has a pay plan to wrap it all up. It really immerses people in the true business model of network marketing and I'm super fired up about it! This app will do so much of the heavy lifting for you, backed by a world-class marketing team. We have spent a lot of time and money over the years on online systems and platforms. Coming into Beyond, it's all here and it has exceeded our expectations!"
* Disclaimer: Individual results will vary depending on successful product sales, which requires hard work, dedication, good sales skills, and leadership. Any bonuses, commissions, or other amounts reflected shall not be considered as guarantees or projections of your actual earnings or profits with this business.
About Beyond
Beyond is known as the Best Day Ever company. With a wide variety of products and services, there is one common goal among them all: lead our members to experience their best day ever.
We know that one person's best day isn't identical to the next person's. That's why we offer financial technology products and services designed to make your money work for you, as well as wellness products designed to nourish your mind, body, and soul.
We've designed a personal development assessment to identify which areas of your life could use growth, and then we provide real, actionable steps to help you feel centered with our products and services.
Whether your best day ever is having more time to vacation with your family, getting 5% cash back on spending with your multi-currency wallet, paying off your student loans with digital technology products, running your first marathon, or losing those last few stubborn pounds, we have something to offer everyone.
And with our revolutionary mobile app, and two lucrative rewards plans, Beyond makes it easy for you to have your best day ever, and help others have their best day ever as well! For more information please visit www.well-beyond.com and  Beyond YouTube Channel.