USANA Health Q2 Revenue up 1.2% To $259 Million
July 24, 2020
By Team Business For Home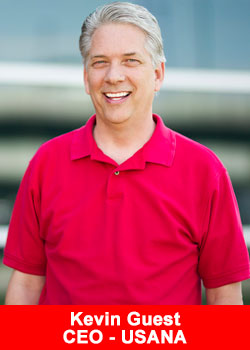 USANA Health Sciences, Inc. (NYSE: USNA) announced financial results for its fiscal second quarter ended June 27, 2020.
Key Financial & Operating Highlights
Continued strong demand and successful promotions combined to generate $259.0 million in net sales and $1.32 in diluted EPS during the quarter
Active customers increased 7.9% vs. the prior-year quarter
Company continued to successfully execute a virtual sales and operating strategy to deliver results
Company raises full-year 2020 Net Sales and EPS outlook
Q2 2020 Financial Performance
+1.2% vs. prior-year quarter
+4.3% constant currency vs. prior-year quarter
-$8.1 million fx impact, or -3.1%

+45.1% vs. prior-year quarter Diluted shares of 21.1 million, -9.6%

+7.9% vs. prior-year quarter

Ended quarter with no debt
"Strong consumer demand for our high-quality, health products and successful promotions drove our second quarter performance,"
said Kevin Guest, Chief Executive Officer and Chairman of the Board.
"During the quarter, we generated nearly eight percent growth in active customers, due to double-digit customer growth in three-of-our-four regions, including the Americas and Europe region. We also continued to successfully execute a virtual sales and operating strategy to deliver our results.

This strategy included USANA hosting its first all-virtual Asia Pacific Convention, as well as the facilitation of other technology-based tools that assisted our Associates in their sales efforts. Finally, we offered several promotions and incentives during the quarter that benefitted net sales and our overall results.

The health, wellness and safety of our employees, Associates and customers around the world remain our top priorities and our operating plan will continue to reflect those priorities."
Mr. Guest continued,
"We are raising our full-year guidance to reflect a solid second quarter as well as our expectations for the back-half of the year. We recognize that we cannot anticipate all of the challenges that might arise as a result of the ongoing COVID-19 pandemic, but we believe that we are positioned to continue adapting to an evolving operating environment.

Overall, we remain confident in the strength of USANA's underlying business and the growth strategies we have in place for the remainder of 2020 and beyond."
About USANA
USANA (NYSE:USNA) prides itself in providing consumers the highest quality nutritional products in the world. From its award-winning supplements to its innovative skincare line, USANA has proven for more than 25 years why it's a company you can trust. How about giving us a try? Shop at USANA.com or learn more at whatsupusana.com.