WorldVentures Joins Forces With GrapeStars
July 30, 2020
By Team Business For Home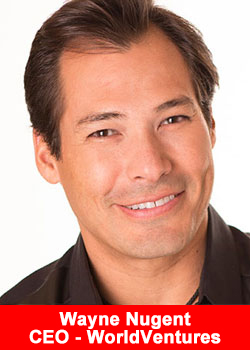 WorldVentures™, the leading direct seller of global travel and leisure club memberships, announces a co-sponsored initiative with GrapeStars™, an one-of-a-kind online marketplace where celebrities can promote wine and spirits directly to consumers.
This strategic alliance supports WorldVentures's mission to help its hundreds of thousands of worldwide Independent Representatives and DreamTrips™ Members get more fun, freedom and fulfillment in their lives.
The first of many unique travel ventures created as part of this program is a celebrity-worthy DreamTrip at The Fives Beach Hotel & Residences in Playa del Carmen, Mexico, featuring American country music singer, songwriter, actor and music producer, George Strait and his award-winning tequila, Código 1530, which can be purchased through the GrapeStars app.
"GrapeStars is about providing our customer the ultimate convenience offering a one-stop shop for all their favorite celebrity liquors, including Código 1530,"
said Jean-Jean Pelletier, Founder, President & CEO.
"I could not be more thrilled about our partnership with WorldVentures as we now get to be a part of creating an ultimate experience for celebrity fans."
WorldVentures and GrapeStars designed this unforgettable experience exclusively for DreamTrips members but for the first time, have invited a small number of non-member fans to enjoy the experience as well. Those who book will get to sip tequila from the premier Código 1530 collection and nibble on chef-inspired paired appetizers, all while chatting virtually with the "King of Country" himself, George Strait. George will also be accompanied by Co-Founder & CEO Ron Snyder of Código 1530, as they share their love of this exclusive tequila.
WorldVentures made this private travel experience available to the public as part of an exclusive DreamTrips experience and better yet, you don't have to be a DreamTrips member to enter to win. Two lucky winners and their guests will enjoy a 3-night, all-inclusive stay in a one-bedroom suite at The Fives Beach Hotel & Residences — All Senses Inclusive®, flight vouchers, airport transfers and their choice of excursion. Plus, a once-in-a-lifetime chance to sit down virtually with George Strait and sip tequila. To participate in this unique opportunity, please visit the DreamTrips giveaway website or download the GrapeStars app and place an order for Código 1530.
"We're excited about our new partnership with GrapeStars,"
Founder and CEO of WorldVentures Wayne Nugent said.
"As a travel and lifestyle company, we always strive to create one-of-a-kind experiences for our members worldwide. It's an exciting time to be a DreamTrips member as we look forward to creating many more of these celebrity-influenced trips."
About WorldVentures
WorldVentures Marketing, LLC, sells travel and lifestyle community memberships providing a diverse set of products and experiences. The company's goal is to help Independent Representatives, DreamTrips Members and employees achieve more fun, freedom and fulfillment in their lives. WorldVentures uses the direct sales model to go to market with active Representatives and members worldwide. For more information, visit worldventures.com.
About GrapeStars
GrapeStars International, Inc. is a game-changing online specialty wine and premium & craft spirits marketplace which allows celebrities and celebrity endorsed brands to promote their wines and spirits directly to their followers on social media. For the first time ever, celebrities and brands now have a virtual direct-to-consumer sales channel. The company was founded by serial entrepreneurs and wine aficionados Jean-Jean Pelletier (President and CEO), his brother Robert Pelletier, and their childhood friends Stephan Fortier, Stefan Lindqvist and Charles-André Sauvé. For more information, please visit www.grapestars.com.
About George Strait
George Strait is the undeniable "King of Country Music." His music career spans more than 30 years; includes 60 No. 1 singles, more than any other artist in any genre; and boasts 33 platinum or multi-platinum-selling albums, more than any country artist and third across all genres behind only The Beatles and Elvis Presley. Strait is the only act in history to have a Top 10 hit every year for over three decades and has sold more than 70 million albums and earned more than 60 major entertainment industry awards.
Strait, whose name has become synonymous with "real country" since his 1981 debut, was inducted into the Country Music Hall of Fame in 2006. He has since released five more albums, including the GRAMMY Award-winning Troubadour and his latest chart-topping release, Cold Beer Conversation. The singer is also an investor in the Código 1530 brand of tequila.