Amaka Nma From Nigeria Achieves 250k Rank At MyDailyChoice
August 28, 2020
By Team Business For Home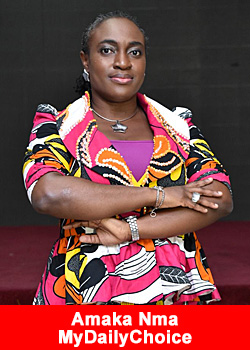 Just three years ago, Amaka Nma was struggling to feel fulfilled in her career. A married mother of three boys, she was working for a network marketing company, but felt burned out.
The company did not provide an autoship program, which is the primary way Amaka likes to scale her business. Moreover, the products were not the quality she wanted to promote and sell, which conflicted with her mission to make a positive impact on people's lives through wellness products that make a difference. Then she discovered MyDailyChoice in July 2017 and realized it had the perfect business model to support her goals.
What first caught Amaka's attention was the wide range of quality wellness products MDC has available internationally. This gives Affiliates the opportunity to grow a global business.
Additionally, MDC offers a Loyalty Rewards Program with autoship benefits which matched perfectly with Amaka's business plan and busy lifestyle. Amaka has experienced incredible success locally in the EU and continues to grow her business internationally in the USA and Africa.
Amaka credits Josh and Jenna Zwagil for building such a unique network marketing company. With Affiliate success in mind, the company provides the training resources that keep Amaka motivated and inspired. CEO & Founder Josh Zwagil says,
"Amaka has done an amazing job growing her business internationally. She's worked hard over the last few years and it's been incredible to watch her impact so many lives. We're glad to have her on our team and look forward to what she accomplishes next."
Amaka also thanks Ashley Shift, the MDC Corporate Staff, and her entire team for being so supportive and dedicated to sharing these quality products with the world.
Amaka said,
"I never expected how fast the level of success and growth was that I experienced with MDC. MDC is perfect vehicle for success, and I am committed to building legacies with our company. I truly am blessed to be a part of this family."
Her next steps are to keep impacting lives by sharing wellness products with the world and working to make MDC a global household name.
About MyDailyChoice
MyDailyChoice, Inc., based in Las Vegas, NV, is the global leader for pure CBD products, the finest essential oils, exclusive travel deals, and wellness and performance products. With more than 75,000 active Affiliates worldwide and four unique brands – HempWorx, Mantra Essential Oils, High Life Travel, and Daily Sprays – MyDailyChoice is a recognized leader in the Direct Selling Industry.
MyDailyChoice brings its mission to empower families with the opportunity to be physically and financially healthy. MyDailyChoice's 100% commitment to innovation continuously brings customers and Affiliates the highest quality and latest product breakthroughs in the wellness space, supporting holistic lifestyles and the entrepreneurial spirit.
For more information, please call +1 (888) 877-5436 or visit www.mydailychoice.com.
The are no guarantees regarding the income from the MyDailyChoice/HempWorx opportunity. The success or failure of each Affiliate, like in any other business, depends upon each Affiliate's skillset and personal effort.
Earning levels for Independent Affiliates are examples and should not be construed as typical or average. Income level achievements are dependent upon the individual Affiliates business skills, personal ambition, time, commitment, activity and demographic factors. To view the MyDailyChoice Income Disclosure Statement, click here.
Recommended Distributors MyDailyChoice