Jennifer Hyder Achieves Royal Black Diamond Rank At Elepreneurs
August 11, 2020
By Team Business For Home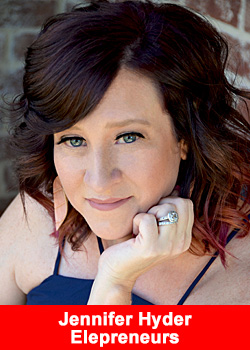 What turned everything in Jennifer Hyder's life around after a series of tough personal losses? "Peanut butter," she says.
A few years back, the 47-year-old mother, along with second husband, Donavon, opened two restaurants in Georgia.
"It was a huge commitment and a lot of time away from our family, but it was worth it; we loved it," says Jennifer. But then, in November 2018, everything changed for the Hyder family. "Because of a crooked landlord, everything we worked for had been ripped away — the doors to our restaurants, our life's dream, our life's savings — we lost everything."
With five children to feed, Jennifer knew she had to make something work. That's where peanut butter comes into the story. With $100 for groceries one week, as Jennifer scanned her items, it was the peanut butter that sent her over the edge … and over her budget. "I remember that moment in the line, feeling so embarrassed as the people behind us were obviously frustrated with me," she says. "It was at that moment that I made the decision to push through the fear."
Jennifer had previously dipped her toes in the world of network marketing,
"but in that company I wasn't happy," she says. "I was stuck on a giant hamster wheel, stagnant, always feeling like I couldn't help my team win, so I walked away. I never thought I'd want to do network marketing again."
First it was the peanut butter. Then a cup of coffee with a friend. "My girlfriend talked to me about this coffee and after trying a cup, I just remember feeling so amazing!" she says. Seeing the results first-hand motivated Jennifer to share Elepreneurs' products with everyone. "I also knew the business opportunity had the ability to save my family."
Jennifer began her journey by relying on her earlier experiences as an entrepreneur. "The more hands-on you are with your business, the more successful it will be," she says. "Empower those who believe in you, and the rest will follow."
As for the Elepreneurs culture, Jennifer confirms:
"Upline, downline, sideline — we celebrate everyone and, trust me, that's not the norm."
In her time with Elepreneurs, the business has allowed Jennifer to financially put the pieces back together again. "My husband and I both get to be home with our children and enjoy the flexibility of making memories with our family.
The time and freedom is priceless," she adds, "but honestly, my biggest goal is to continue to see the people who believe in me — and join me in the journey — to continue to win"
About Elepreneurs
Elepreneurs is on a mission to help elevate your life through patented nutritional products, life-changing virtual success training, and a unique rewards program.
Elepreneurs actually builds happiness right into our powerful nutritional products. The superior, scientifically backed ingredients stimulate the happiness hormones — dopamine, oxytocin, serotonin, and endorphins — which we refer to as D.O.S.E. For more information, visit www.elepreneur.com.
Recommended Distributors The Happy Co.