Junior Omaga From Canada Achieves Executive Ambassador Rank At Beyond
August 27, 2020
By Team Business For Home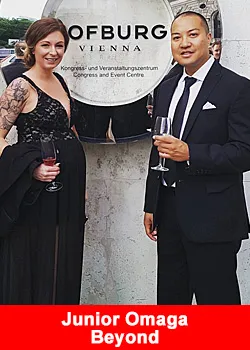 Benjamin 'Junior' Omaga of Vancouver, Canada found his way to network marketing after a successful career as a financial planner. At 38 years old with a wife and two kids, Junior says,
"I was making over $200,000 a year but I was working 12+ hours a day, 7 days a week and I missed a lot of time with my family. I was following in the same footsteps as my parents who worked 2-3 jobs as I was growing up."
Junior's mother asked him why he would give up his well-paying job to begin network marketing. Junior told her, "I don't want a good job, I want a good life."
Now, 4 years into network marketing, Junior has joined Beyond and has been able to "make 5 times more than I ever did in a month at my last company" by achieving the rank of Executive Ambassador and still has time to put his family first.
Junior says he discovered network marketing by accident. He jokes that he went to the first presentation for the food. But while he was there, he saw the potential to create time freedom and generate residual income.
"It was something I could share with people, they could benefit from, and in turn I could make a living. I also liked the fact that in network marketing, you can build leverage, whereas in insurance sales, it was just me."
Junior was excited about finally being able to create his own schedule and earn as much money as he was willing to work for. Junior describes the opportunity of network marketing as unlimited.
"You could surpass someone who started before you, or even the person who brought you in. It's not like a corporate structure where you can't earn more than your boss, CEO, or owner of the company."
On that same note, Junior remarks that "I've been mentored by people younger and older than me, and I have mentored people both younger and older than me as well." According to Junior, it all comes down to personal development, striving for the things you actually want, and finding the right mentors to follow to get there. "If you buy someone's opinion, be prepared to live that person's lifestyle."
Junior sees Beyond "helping a lot of people around the world and being one of the biggest and fastest growing network marketing companies that can adapt and change with the world." He believes that the Infinite Success mobile app is key to this growth and success.
"Beyond has a system, the Infinite Success mobile app, that helps with the sales process. A lot of people have problems in network marketing because they can't sell or do presentations… but the app does the selling and presenting for you! It's a done-for-you system."
Tied into the Infinite Success mobile app is the Infinity Line which Junior describes as "a game-changer. Nothing like this has ever been done before… and it's working!" With the free version of the mobile app, "people see it work for themselves for free at first."
Aside from the mobile app and the Infinity Line system, Junior appreciates the wide variety of product offerings that are available with Beyond.
"Beyond offers amazing products that help people to live a healthy lifestyle by improving their nutrition, energy during the day, and better sleep at night. Also, if you're not interested in health products, Beyond has systems and services where people can grow their financial portfolio by having forex education, automated trading systems, and the ability to learn and get involved in new, emerging money markets."
Junior believes that Beyond is uniquely positioned to address today's ever-changing world with cutting-edge technology to grow even during a pandemic.
"Especially today, Beyond can adapt to what's going on in the world. Traditional network marketing is done face-to-face, or with home presentations, or hotel banquet halls. With the present situation you can't really do that now and with the app, we don't have to worry about it."
Speaking about his motivation to continue working hard with Beyond, Junior says that his family is everything to him.
"I do network marketing because I never want to be tied down to a job, a boss, when I can take a vacation, or having my income capped. Also, seeing other people win is such an amazing feeling, especially when you had a hand in it."
* Disclaimer: Individual results will vary depending on successful product sales, which requires hard work, dedication, good sales skills, and leadership. Any bonuses, commissions, or other amounts reflected shall not be considered as guarantees or projections of your actual earnings or profits with this business.
About Beyond
Beyond is known as the Best Day Ever company. With a wide variety of products and services, there is one common goal among them all: lead our members to experience their best day ever.
We know that one person's best day isn't identical to the next person's. That's why we offer financial technology products and services designed to make your money work for you, as well as wellness products designed to nourish your mind, body, and soul.
We've designed a personal development assessment to identify which areas of your life could use growth, and then we provide real, actionable steps to help you feel centered with our products and services.
Whether your best day ever is having more time to vacation with your family, getting 5% cash back on spending with your multi-currency wallet, paying off your student loans with digital technology products, running your first marathon, or losing those last few stubborn pounds, we have something to offer everyone.
And with our revolutionary mobile app, and two lucrative rewards plans, Beyond makes it easy for you to have your best day ever, and help others have their best day ever as well. YouTube: Beyond YouTube Channel Website: https://beyond.global