Nicole Mckinnon From The UK Achieves Double Diamond Rank At Valentus
August 10, 2020
By Team Business For Home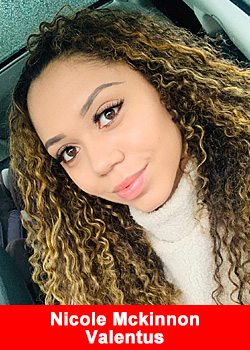 Nicole Mckinnon stated upon her achievement:
I am 23 years old. I originally had a very successful clothing brand on Instagram and then I came across Valentus. Although I was earning a good income I had absolutely no time at all to spend with my family.
My eldest had just turned 1 and I had just found out I was expecting again. I knew that my current business model would not suit our new growing family.
I had seen my upline promoting an opportunity to work from home, that would be flexible and allow me to earn an income around my family.  I was skeptical and thought it must be too good to be true, but I needed to at least try for my girls.
I would have been happy to match what I had earned in my previous job in retail, but after 1.5 years I have become a Double Diamond leader and I am now a 4-figure weekly earner. All of this and I still get to spend every day with my babies doing whatever we want! It's not just the money but it's the time freedom!
I also now have my car paid for by the company.  It has honestly been amazing. I have worked so hard to get here and it's not been easy, but I've been working on my own business and future and not somebody else's.
There are so many things I am grateful for that this company has allowed me to do but most importantly I have been able to offer so many other women the chance to earn from home and not have to choose between staying home with their babies or going out to work. So many of my team all over the world have also replaced their incomes with this.
I have met so many others who have become amazing friends that I would never have met if it wasn't for coming across this company. I know this is just the beginning for myself and my team and I can't wait to see what the rest of the year brings for us.
About Valentus
In Latin, the word "Valentus" means "prevail," defined as proving to be superior in strength, power, and influence. Recognizing that, we couldn?t have picked a more fitting name for a company that strives to be the example in an industry that deserves a leader to follow.
Since day one, our focus, our passion, and our commitment have been to create a company, a product line, and an opportunity built on a foundation of integrity.
From creating significant levels of income, to building strong networks, healthy long-lasting relationships, making new friends, participating in activities you never even knew existed, having the time to do the things you love with the people you love to be with, VALENTUS can help you PREVAIL in ALL of your goals!
For more information please visit www.valentus.com