Opulence Global Is Growing Very Fast, Revenue Up 364%
August 11, 2020
By Team Business For Home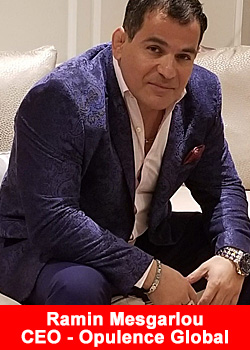 Opulence Global is Canada' s largest designer fashion house, dedicated to design and manufacture quality products. The company reported exponential growth:
June 2020   – Vs. June 2019
New launches: +544% (5.4 times over 2019)
Rank advancements: +3388% (33 times over 2019)
Account Renewals: +142% (1.4 times over 2019)
Monthly Smart Buys (auto ship): +231%  (2.3 times over 2019)
Total Revenue: +364% (3.6 times over 2019)
CEO Ramin Mesgarlou commented:
It used to be that when you talked MLM, you heard countries like the USA, Japan, Australia but today the fastest growing MLM markets are countries like Indonesia, Iran, Malaysia and middle East markets with large populations.
In Opulence Global we are attracting and developing great MLM leadership in communities in over 30 countries.
Their strength lies in their lighting fast duplication, which leads to quick rank advancements. However fast duplication often means weak foundation if it is not monitored closely and led by training focused leadership.
At almost 2 billion strong, the Middle East and other nations can provide the huge boost to the Direct Sales and MLM industries and this is good news for everyone as all waves rise all boats.
It is this connectivity that has made Direct sales and MLM the last bastion of free enterprise where people from all nations and cultures put aside all variances and come together as ONE TEAM and build ONE DREAM.
You will be hard pressed to find another industry that has the power to eliminate the issues of ethnicity, culture, religion, color, and education, as these are factors and realities that hampers social justice.
For this reason alone, I raise my hat in respect to the MLM industry for being the blue ocean in the shark infested waters of commerce and humanity.
– Ramin Mesgarlou
About Opulence Global
Established in 2005, we are Canada' s largest designer fashion house dedicated to design and manufacture products that impact your life. Our mission is to provide you with optimum lifestyle, optimum beauty and optimum health.
In lifestyle, we have revolutionized the fashion industry with new business paradigms along with our exclusive products. Whether you are looking for day to day accessories starting from $10 or leather goods and siledium pieces, we have it all preloaded into your online shop.
In beauty, our FERI Flawless raises the bar in the anti-aging skincare market. It has over 100 patents backing its premium grade raw materials. It is a professional grade regimen, ideal for all skin types, ages and genders who want to look and feel younger! FERI Flawless is so effective, our slogan is "give us 5 minutes and we will turn back the clock 5 years!"
Fountain of Life is a groundbreaking, patent protected natural health product, developed to protect and preserve your health. It is the most powerful antioxidant known in the world and you only need to take 10 drops per day. For more information please visit www.myopulence.com