Rachele Grimoldi From Italy Achieves Emerald Rank At Jeunesse
August 31, 2020
By Team Business For Home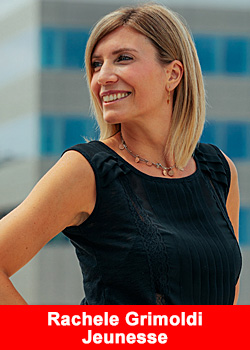 Rachele Grimoldi From Italy Empower women making dreams come true thank to Jeunesse Global. 
Despite the though times that the world went through, Rachele Grimoldi  became an emerald director in Jeunesse Global.
Born in a family of entrepreneurs, she joined Network Marketing in March 2017 and started the cooperation with Jeunesse in February 2018.
Today her team is expanding rapidly in different countries with more than 8,000 distributors.
Rachele joined Network Marketing for 3 main reasons: to take care of her family, to rise as independent woman and to help a lot of people becoming free.
She often says:
"Be a High Value Woman always. Some women choose to follow men, and some women choose to follow their dreams. If you're wondering which way to go, remember that your career will never wake up and tell you that it doesn't love you anymore.""
That's why she joined Network Marketing. This is a kind of business who helps women who want to rise, because Network Marketing is a, scalable, meritocratic and gratifying business
Jeunesse caught her attention because of the incredible growth and solidity of the company, and she started here with her sponsor, the Diamond director Omar De Tommaso.
What mostly made her decision easy was the chance to work directly with Stefania Lo Gatto, Danien Feier, an incredible power couple. She wanted to learn from the best ones.
Rachele always underlines the importance to create a Community in Network Marketing, most of all for women.
She says "when women support each other, incredible things happen!", and that's why she creates with the support of two other female leaders (Sara Grimoldi and Francesca Dell'Aquila), an incredible community for women empowerment.
The goal of the Community is to help women transforming their dreams into reality. In this Community she motivate women who are limiting their ambitions because of social pressures or familiar pressures.
She believes that when women and girls have an equal opportunity to learn, grow, earn and connect with others, they will be able to realize their fullest potential and we live Jeunesse because it's the best solution to turn dreams into money and money into Lifestyle.
They support each other to live the life they desire, to live at our best and to be free. She truly thinks that the key to success is finding balance in all areas of life – mental, emotional, spiritual and physical and then keep growing and keep on inspiring other to become the very best version of their self.
About Jeunesse
Jeunesse is a global direct selling company with a mission to positively impact the world by helping people look and feel young while empowering them to unleash their potential. The company's exclusive skin care and nutritional products form a comprehensive Y.E.S. Youth Enhancement System.
With multilingual customer service, back-office support and a global enrollment system, Jeunesse utilizes a cutting-edge platform to share innovative products, training, and support through 32 fully operational offices to markets in over 145 countries. Learn more at jeunesseglobal.com.
Recommended Distributors Jeunesse