Danielle Webb From The UK Achieves Diamond Rank At Valentus
September 8, 2020
By Team Business For Home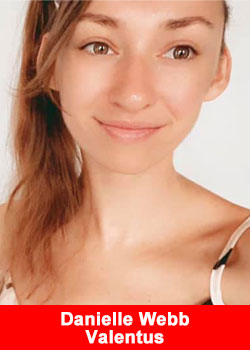 Danielle Webb stated upon her achievement:
I started this business as a busy Third Year Student studying to be a Scientist at University.
I had always been brought up that to earn a good wage you must work hard at school, go to University and get a good corporate job, however incomes are capped in my field of work and the uncapped earning potential of Network Marketing always appealed to me.
Many people are skeptical of the industry and miss out because they worry what other people will think. I was definitely one of those people at the start and the thought of what people might say was crippling.
But I could see what this business could offer me, I did my research, I knew the industry worked and thought what have I got to lose? 
I was never the most confident person growing up, so to be where I am now is the most amazing feeling. The way I have been able to impact thousands of people lives around the world has been incredible, encouraging healthy living, coaching people on how to build a business, inspiring people to become more confident and showing people that they too can live a life without limits.
Network Marketing can be one of the most rewarding industries to be a part of, not just in terms of personal growth and the positive impact you can have in the world but financially too.
I have been able to experience first-hand what a generous and rewarding industry this is to be a part of and watching my team's and my own income grow on a weekly basis goes to show the industry really does work. 
Last year was an amazing year for me, speaking on stages, training thousands of people around the world, treating myself to 6 holidays abroad and travelling to Vegas and Orlando with the business. I have made friendships and memories that will last a lifetime and would encourage anyone who wants more from life to join this business and see where it can take them.
You don't need to be a special type of person; this business will work for anyone who puts the work in.
Now that I have hit the Car Plan I can't wait to go pick up my dream car and to continue to show the world what someone from such a normal background can achieve if they put their mind to it.
About Valentus
In Latin, the word "Valentus" means "prevail," defined as proving to be superior in strength, power, and influence. Recognizing that, we couldn?t have picked a more fitting name for a company that strives to be the example in an industry that deserves a leader to follow.
Since day one, our focus, our passion, and our commitment have been to create a company, a product line, and an opportunity built on a foundation of integrity.
From creating significant levels of income, to building strong networks, healthy long-lasting relationships, making new friends, participating in activities you never even knew existed, having the time to do the things you love with the people you love to be with, VALENTUS can help you PREVAIL in ALL of your goals!
For more information please visit www.valentus.com