Mariia Fetsiak From The Ukraine Achieves Blue Diamond Rank At Success Factory
September 24, 2020
By Team Business For Home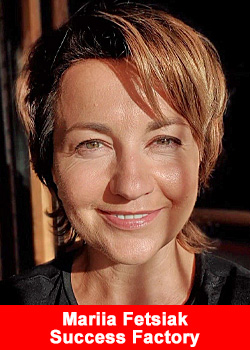 Mariia Fetsiak, an independent associate of Success Factory, currently holding the rank of Blue Diamond, is also part of the renowned international team Success4All, founded and led by Igor E. Alberts and Andreea Cimbala.
Mariia Fetsiak is a veteran networker with over 24 years of experience in the industry. Curiously enough, her whole professional life has been dedicated to network marketing, as she tells us that she has never had a traditional job. Mariia admits that she can't understand how people can work 9-to-5. The freedom of choice in a job is something crucial for her.
Mariia tells us that even when she was a little girl, she understood that it was not possible to create something great alone. Anything really big requires a team:
"In network marketing, I saw an opportunity to create a large team of people who were interested not only in personal development, but also in achieving a team result that would benefit all the members.

I started in a cosmetics company, and it went well, but I realized that it would be way more beneficial to create a team of salespeople rather than sell myself. My team grew bigger, and that brought me a lot of satisfaction. I always say: give people what they need, and you'll get what you need."
Mariia Fetsiak joined Success Factory in mid 2019 by the invitation of Alexander Kulpin. Mariia tells us that just 4 years ago, she left the cosmetics company as the market was saturated and there was no development:
"Networking marketing for me is about the development and growth of leaders and personalities. If my people cannot reach the same position as mine, then what's the point of staying in such company? I began to think where the money was, and I got the answer: digital technologies. This is how I found out about Dagcoin.

The idea and scale of the project appealed very much to me. After the event in Tallinn, seeing the grandeur and value of the Dagcoin company, meeting entrepreneurs and partners of Success Factory, I decided to join and develop the project.
We are dynamically developing in more than 20 countries of the world. We have more than 6000 partners in 15 months. My team is my inspiration. I'm lucky to have great people. On my team, there are great leaders, such as: Viktoria Lukashevich, from Ukraine, Nina Simakova from Russia, Svetlana Borissevich from Ukraine living in Germany, and Olga Malitskaya from Ukraine, who are all also Diamonds.
And speaking about more great people, I would like to take this opportunity to give a special thanks to the leader who helped me in this company. To Alexander Kulpin, for a joyful and educational partnership; it's a real happiness to create together. To Daniel Visser, Iulian Cimbala, for regular presentations in Ukraine. To Igor Alberts and Andreea Cimbala, for the consistent support in the development of my people. And for an invitation and magical days in the House of Dreams."
Mariia Fetsiak adds some words about her perception of the Success Factory company:
"Success Factory is definitely ahead of the market. Think that it was the first company in the industry that launched 3D virtual events. Absolutely everything about this company is technology and innovation.
I have to add that I'm really happy that Success4All is part of Success Factory. I'm inspired by the development strategy of this magnificent team that united talents and extensive experience of powerful and strong networkers of the world of the present, not the past. The Success4All team has very wide and long-term vision."
About Success Factory
Success Factory is a network marketing company whose main goal is the promotion of human potential and supporting latest technology, relying on innovative and creative proposals that bring real solutions to the lifestyle in the 21st century.
The product catalogue of the company is mainly digital, covering the spheres of technology, education, sales skills and financial expertise. All that always improving quality, usability and exceptionality and offering its sales force different products to work with. The most outstanding items within the extensive ecosystem of the company are Forex Insiders, B.A.N.K., Dagcoin, and Dagpay.
Success Factory has come to be the company that transforms network marketing, being, above all, a company that detects, trains and empowers the sales professionals that will be the great legends of the industry tomorrow. Find more information on the company's website www.successfactory.com.
Recommended Distributors Success Factory