MLM Social Network Neworkom Is Accelerating
September 4, 2020
By Team Business For Home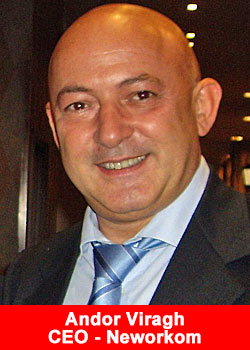 Neworkom is accelerating with new qualifications and many new features
Following the direct support given to Ulyfe's prelaunch, the new social network in Affiliate Marketing based on the Digital Sharing Economy concept, the rise of Neworkom continues.In the past few days some changes to the NWK Marketing Plan have been introduced that have closed a cycle of adjustments and refinements to the backbone of the Neworkom opportunity.
During a video conference with the Top 100 Club, President Andor Viragh introduced the latest changes to the plan. Despite the period we are currently experiencing, the Neworkom project, with the introduction of a new business model, is giving strong momentum to a new generation of digital entrepreneurs.
To testify to this, there is a new set of qualifications that came soon after the application of the new rules, namely
138 new Emeralds
20 new Rubies
17 new Diamonds
4 new Double Diamonds
"I am glad that our Digital Consultants are seeing the fruits of the work of the past months,"
said Andor Viragh, President and Founder of Neworkom.
"Although the period is not the most prosperous from the point of view of opportunities, Neworkom continues to make courageous choices to continue to bring new opportunities, not only from an economic point of view, but also and above all from a cultural point of view, building a new generation of Networkers.
The Covid-19 situation has put on pause a series of activities that Neworkom had planned worldwide, in particular for the next Event in Dubai, which will also coincide with the release of new products and services.
Meanwhile, Neworkom continues to renovate its image by presenting the new website www.neworkom.com.
About Neworkom

Neworkom™️ was founded in Malta in 2019 by a group of entrepreneurs with twenty years of experience in finance, networkingand community building. The need to build a pillar of excellence that brings together experts in various sectors to drive innovation, was the spark that gave rise to the concept of New Work and Communication, Community, Commerce. A place to host the dreams of others, making them come true.
Neworkom seeks, in the present, the opportunities of the future, providing people with concrete ideas to improve their lives. The ultimate goal is that the opportunities offered by Neworkom™️ can bring inspiration and innovation to everyone in the world. for more information please visit www.neworkom.com
About Ulyfe
Ulyfe™️ is a 2nd generation social network, based on a community built in Digital Sharing Economy. It is a protected environment, designed in blockchain, where anyone with a talent, who wants to express himself, exchange goods and services, whether private or professional, can find his space, online or offline, starting from the home to reach the global audience.
This starting from a specific place, a geolocalized map that starts from where you are, all around you. A part of everything that this economy generates is distributed among the members of the community. Access is possible from any device and you can be part of it by following the Affiliate Marketing system: it is only thanks to an invitation that you can be part of this community. For more information please visit about.ulyfe.com