MyDailyChoice Manifest Convention Draws 25,000 Attendees
September 23, 2020
By Team Business For Home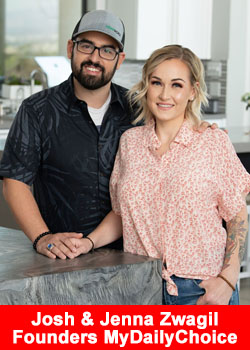 The MDC 4th Annual Convention, held September 18th & 19th, was a resounding success with over 25,000 in attendance. This virtual convention included cash giveaways, prizes, new product launches, new marketing videos, tech enhancements, powerhouse keynote speakers, and exciting updates on international expansion.
"Although we wanted to be with everyone in person, this event may have been our best yet. We could feel the excitement and electricity as we were broadcasting.

Everything went perfectly, from the motivational keynote speakers to exciting product announcements. It felt like something special and I'm looking forward to seeing the success of our Affiliates coming out of this incredible event" 
stated CEO & Founder, Josh Zwagil.
New Brands and Products Taking the Industry by Storm:

Akashx was announced, a revolutionary educational platform providing tools and solutions to help people master their Forex & Cryptocurrency portfolio. This new and exciting brand includes 7 amazing products.
Akashx DigiBank: A comprehensive digital banking solution to buy, sell, store and spend your cryptocurrency. Use your Akashx branded debit card to spend your funds on everything you love.
Akashx Social Trading: Discover traders from all over the world. Link your brokerage account, pick the strategies you like and copy those trades in real time. Set up a demo account to test your strategies.
Akashx Academy: A micro-learning video library with 145 lessons where traders learn from condensed 1-minute videos. Beginner, advanced and expert courses available and translated in 15 languages.
Akashx Market Research: Get daily technical analysis, financial news and market research videos using language that is easy to understand.
Akashx Signals: An algorithm provides traders market entry opportunities covering Forex and Commodities. Available on Telegram and desktop.
Economic Calendar:

Covers 360 events throughout the year, explaining the significance, where data comes from and how it could affect the market.

Cryptocurrency Calendar:

Shows events that impact the fiat currencies and covers events that influence cryptocurrency.
All of the above products are included in this amazing membership and Akashx is launched in the USA, EU, Canada, Mexico, Taiwan, South Africa, Kenya, Nigeria, and Ghana. Try the Akashx products today by clicking here.
Daily Sprays, a massively successful brand with a unique patented micronized mist delivery system, has been reformulated to offer even more targeted benefits. Two scientifically advanced sprays have also been added to the lineup, E-CELL Daily Spray and ULTRA CZ Daily Spray. Learn more about Daily Sprays here.
Mantra Scents

is a new line of all-natural botanical aromas designed around aspirations and daily affirmations. Scents include ABUNDANT, CONFIDENT, LOVED, POWERFUL, RESILIENT and WORTHY. Learn more about Mantra Scents

here.
Manifest 2020 was the perfect exclamation mark to a year of unprecedented growth. MyDailyChoice has generated 160,000 new customers and 85,000 new Affiliates. They recognized 400 rank advancements globally during the virtual event.
About MyDailyChoice
MyDailyChoice, Inc., based in Las Vegas, NV, specializes in CBD products, essential oils, travel deals, and wellness and performance products. They have more than 75,000 active Affiliates worldwide and five unique brands – HempWorx, Mantra Essential Oils, High Life Travel, Daily Sprays and Akashx.
MyDailyChoice's mission is to empower families with the opportunity to be physically and financially healthy. They are committed to innovation, quality and product breakthroughs that support holistic lifestyles and the entrepreneurial spirit. For more information, please call +1 (888) 877-5436 or visit www.mydailychoice.com.
Recommended Distributors MyDailyChoice