Amanda Taylor Achieves Royal Black Diamond Status At Elepreneurs
October 21, 2020
By Team Business For Home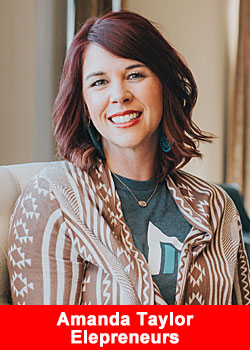 Bowling Green, Kentucky, resident Amanda Taylor says that before she joined Elepreneurs she was never really a goal-oriented person.
"I just didn't think that way, didn't know what mindset or self-development was," she explains. "I just lived each day going through the routine."
Part of that routine includes her family, her faith and her pets.
"I'm wife to my hardworking husband of eight years, Justin. We have two boys. Tucker is 14; Cooper is 4. I say that one cries, and the other rolls his eyes!"
Amanda is also a daughter and sister, a member at Greenwood Baptist Church and a "doodle" mom.
"After the age of 34, I stopped keeping track of my age, just thankful for each year … but I'm 38, I think!" she adds. "I'm also a friend and leader to an amazing team, Team Shine Bright!"
But in 2018 before she had that team, Amanda came across a Facebook post written by her cousin Courtney about a new business she had started. "The post said, 'I made enough for this month's daycare!' It hit me that, man, daycare is expensive. Maybe I could do what she's doing and have some extra money and go see Chris Stapleton, have money for savings and money to pay off what little debt we had."
That sounded good to Amanda, but there was just one problem: "I didn't drink coffee." Nevertheless, her cousin sent her a month's worth of samples, and in March 2018 Amanda had her first cup of happy coffee. "It was like wow! I wasn't controlled by food that day, so all day I was thinking that I wanted to do this — not just as a customer; I wanted to jump in!"
Amanda was new to network marketing, and Justin, was a bit skeptical.
"I knew if I said yes, it wasn't to say yes and then quit or just be mediocre," she explains. "It was to say yes and jump in, all in; failure was not an option."
Fortunately, when Amanda jumped, she soared. "My amazing team hit the top 1% of the company in eight months," she says. And while the extra money and the accolades were nice, Amanda says she found something else, too. "I was missing this sisterhood, this tribe, a feeling of belonging to something," she explains.
Her "why" changed, too. "I joined Elepreneurs for the money, but that 'why' changed!" she explains. "It's not about me, it's not about the paycheck; it's about helping others — my team and customers — that's my 'why'!"
She says helping others to feel better about themselves is her true goal.
"This opportunity has allowed me to show them they are enough, to help them physically, emotionally and financially."
After a year with Elepreneurs in a part-time role, Amanda turned in her notice with her day job and never looked back.
"I no longer live just for Friday," says the now full-time Elepreneur. "Every day is a good day. When you do what you love, you never have a problem with Mondays."
As for advice Amanda can offer to others: "Show up as the real you, not who you think people want you to be! I say all the time that if I can do this, anyone can! I didn't have a clue what I was doing. I didn't even like coffee, and I made it!"
About Elepreneurs
Elepreneurs is on a mission to help elevate your life through patented nutritional products, life-changing virtual success training, and a unique rewards program.
Elepreneurs actually builds happiness right into our powerful nutritional products. The superior, scientifically backed ingredients stimulate the happiness hormones — dopamine, oxytocin, serotonin, and endorphins — which we refer to as D.O.S.E. For more information, visit www.elepreneur.com.
Recommended Distributors The Happy Co.