Carly Steel From The UK Achieves Double Damond Rank At Valentus
October 30, 2020
By Team Business For Home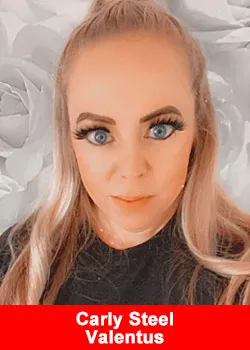 Carly Steel stated upon her achievement:
My story, over the last 4 years with this company has been an absolute life changer for me and my daughter.
In December 2016 I was broke and worried sick that I couldn't afford to pay for Christmas, then on December the 10th I stumbled across Valentus.
I watched an opportunity call and knew straight away this was the company for me, I signed up and within 4 days I had made enough money to pay for Christmas. Within 5 weeks I hit Diamond which meant I got a car bonus every month towards a car of my choice, within 3 months I hit Double Diamond.
My life literally turned around.
I've gone from being a broke single mum on benefits to a happy independent leader.
Me and my daughter have been on some amazing adventures including a free cruise to Bahamas with our CEO, Dave and Joyce Jordan, to Canada, and to Miami Florida. We have been to places I would never have been able to afford to go to before.
I've met some amazing people and made some lifelong friends.  This company is like one big family. I am forever grateful for Valentus and for the freedom it has given me.  I know I have a long successful future here.
About Valentus
In Latin, the word "Valentus" means "prevail," defined as proving to be superior in strength, power, and influence. Recognizing that, we could n0t have picked a more fitting name for a company that strives to be the example in an industry that deserves a leader to follow.
Since day one, our focus, our passion, and our commitment have been to create a company, a product line, and an opportunity built on a foundation of integrity.
From creating significant levels of income, to building strong networks, healthy long-lasting relationships, making new friends, participating in activities you never even knew existed, having the time to do the things you love with the people you love to be with, VALENTUS can help you PREVAIL in ALL of your goals!
For more information please visit www.valentus.com
Recommended Distributors Valentus