MLM Leader Greg Sarlo Joins Valentus
October 19, 2020
By Team Business For Home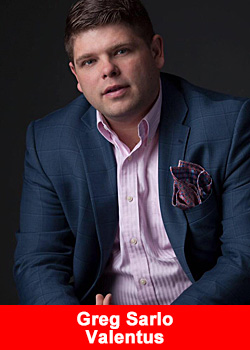 Prior to Network Marketing Greg Sarlo begin his work life at a large tech company that seemed to have the makings of a secure 40 year career then the economy took a turn for the worse and he was laid off:
"it was then I vowed never again to let my life be dictated by others by the economy or a company."
Greg turned to network marketing and enjoyed some success in his early years then surrounding himself with "the right" coaches and mentors was able to excel and thrive inside the industry building teams across the globe and enjoying a full time career inside network marketing.
Being a part of 3 companies from larger more seasoned to new startups, Greg got to see many aspects of the industry and began to really understand what was important for true success in MLM.
It was his worst and best decision that changed everything for Greg, he had taken a leap of faith and partnered with a startup company, was able to reach a 6 figure level in record time – but the leadership and foundation wasn't what it needed to be to succeed long term, this was a hard lesson and almost knocked
Greg out of the industry entirely. But having the strong desire to help others he searched for the perfect fit for long term success.
"I didn't come this far to only come this far"
In Network Marketing there are important things to look for in a company. These are the 5 Key Elements:
The Company
The Products
The Leadership
The compensation Plan
Timing.
These were all things that needed to align and be strong for success inside this industry, says Sarlo. Those elements were found inside of Valentus, Greg connected with Joey Boswell and John Haremza and began to test the products.
"They were the real deal. The system, the culture and training were everything it needed to be and more. This was truly a perfect fit. I have lost 43 pounds and feel better than I have in years!"
Today Greg Sarlo continues to build his legacy in the business and entering a new phase of life and success.
About Valentus
In Latin, the word "Valentus" means "prevail," defined as proving to be superior in strength, power, and influence. Recognizing that, we could n0t have picked a more fitting name for a company that strives to be the example in an industry that deserves a leader to follow.
Since day one, our focus, our passion, and our commitment have been to create a company, a product line, and an opportunity built on a foundation of integrity.
From creating significant levels of income, to building strong networks, healthy long-lasting relationships, making new friends, participating in activities you never even knew existed, having the time to do the things you love with the people you love to be with, VALENTUS can help you PREVAIL in ALL of your goals!
For more information please visit www.valentus.com