USANA Q3 Sales Up 14.5% To $298.5 Million
October 22, 2020
By Team Business For Home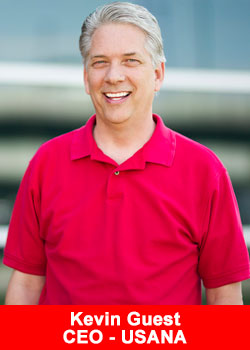 USANA Health Sciences, Inc. (NYSE: USNA) today announced financial results for its fiscal third quarter ended September 26, 2020.
Key Financial & Operating Highlights
Third quarter net sales increased 14.5% year-over-year to $298.5 million due to strong product demand and successful incentive programs.
Diluted EPS increased 32.1% year-over-year to a record $1.44.
Active customers increased 16.5% year-over-year to a record 650,000.
Company raises full-year 2020 Net Sales and EPS outlook.
Q3 2020 Financial Performance
Consolidated Results

Net Sales

$298.5 million

+14.5% vs. prior-year quarter
+13.6% constant currency vs. prior-year quarter
+$2.5 million FX impact, or +0.9%

Diluted EPS

$1.44

+32.1% vs. prior-year quarter
Diluted shares of 21.2 million, -4.7%

Active Customers

650,000

+16.5% vs. prior-year quarter

Cash & Cash Equivalents

$278.4 million

Ended quarter with no debt
"This was an all-around very successful quarter for the Company," said Kevin Guest, Chief Executive Officer and Chairman of the Board.

"During the quarter, our strategies led to strong global customer demand for our high-quality nutritional products. We also offered various incentives and promotions that were well received and contributed meaningfully to sales and customer growth for the quarter."
"Of further note, USANA's Virtual Events strategy proved successful during the quarter. Our annual Americas and Europe Convention and our China National Sales Meeting were both held virtually, and this allowed us to reach larger audiences than did many of our past, in-person events.
Throughout 2020, our management team and Associate sales force have demonstrated their ability to modify strategies and adapt to continually changing conditions, all in an effort to continue to advance USANA's mission of health and wellness. We look forward to a strong finish to 2020 and delivering further growth in 2021."
USANA develops and manufactures high-quality nutritional supplements, functional foods and personal care products that are sold directly to Associates and Preferred Customers throughout the United States, Canada, Australia, New Zealand, Hong Kong, China, Japan, Taiwan, South Korea, Singapore, Mexico, Malaysia, the Philippines, the Netherlands, the United Kingdom, Thailand, France, Belgium, Colombia, Indonesia, Germany, Spain, Romania, and Italy. More information on USANA can be found at www.usana.com.