Crowd1 Will Launch MIGGSTER Mobile Gaming
November 13, 2020
By Team Business For Home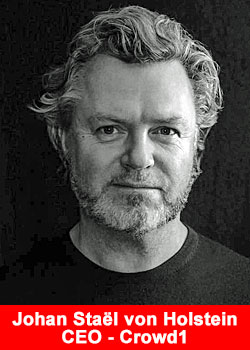 According to. Crowd1 press release, November 13th, 2020: MIGGSTER Mobile opens up a new world of gaming
On the 14thof November 2020, the doors to a brand-new world of mobile gaming will open. Crowd1 and Tecnología de Impacto Múltiple (TIM) areset to launch the MIGGSTER Mobile Social Gaming and eSports Platform operated by Emerge Gaming Limited. Over 11 million people worldwide have already pre-registered.
"The vision is very clear. Our common goal is for MIGGSTER to revolutionize the entire gaming industry",
says Gregory Stevens, CEO of Emerge Gaming.
Music streaming was the first groundbreaking on-demand service and is now well established with hundreds of millions of users such as Spotify, Apple Music, and Pandora. TV on demand continued the streaming boom with Netflix, Amazon Prime, HBO and many other similar services that now are present in almost every household.
The next revolution is gaming on demand. MIGGSTER mobile is a mobile casual eSports platform that uses Emerge's proprietary eSports tournament platform technology with new and enhanced platform features and exciting games. The platform will offer avid mobile gamers the opportunity to turn their hours of entertaining mobile gaming into prizes and rewards.
With a monthly subscription fee starting at € 7.50, a Miggster user gets access to more than 100 exciting games (Gold Minor, Race Right, Square Stackeretc.) and all worldwide tournaments. More games will continuously be added. The tournaments are the heart of MIGGSTER Mobile and free to enter.
As a registered user you don't need to buy hardware (e.g. Xbox, PlayStation or a gaming PC). The entire MIGGSTER game library is hosted in the MIGGSTER Game Cloud, passed through super-powered servers and then streamed to your screen.
About Crowd1
Crowd1 is an established online networking and marketing company based in the UAE with intentions on giving members all over the world the unique opportunity to take part in the gig economy, education, international networking, and to contribute to achieving better digital equality in the world. Crowd1's international network consists of millions of highly ambitious members with a love for entrepreneurship and sales that provides a source of income.Follow our remarkable growth and stay up to date with Crowd1 on our Instagram, Facebook, Youtube, and Twitter. More information crowd1.com/ and on our blog blog.crowd1.com/.
About MIGGSTER
MIGGSTER, a revolutionary gaming and eSports community, leverages world class technology to deliver immersive gaming entertainment and social engagement to a global online network of gamers.
MIGGSTER's objective is to build the world's biggest online gaming community. The MIGGSTER products will deliver community tools including chat, friends and team functionality, laying the foundation for gamer engagement in the online network. Entertaining content, including mobile games, AAA gaming titles, tournaments, rewards and live streaming to global audiences, will feed the online community's insatiable eSports and gaming appetite.
By the end of 2020, projected eSports hours viewed will reach 11 billion by an enthusiastic audience of 250 million watching live and online. The mobile gaming industry is expected to top US$100 billion by 2021, achieving a decade of double-digit growth and generating more than 50% of the global games market with 2.2 billion social casual mobile gamers. For more information visit the website: miggster.com
MIGGSTER – Cloud Game Streaming
The partnership between Emerge and TIM will take a phased approach, with the first phase MIGGSTER Mobile launch being the precursor to a planned second phase collaboration on Emerge's Cloud Game Streaming and eSports product under the MIGGSTER brand.
About Emerge Gaming
Emerge Gaming Limited (ASX:EM1) is a leading eSports and gaming technology company. Emerge Gaming owns and operates an online eSports and casual gaming tournament platform technology and lifestyle hub. Via this platform, casual, social and hardcore gamers can play hundreds of gaming titles against each other via their mobile, console or PC, earning rewards and winning prizes. The platform uses its unique IP, advanced analytics tracking and proprietary algorithms to deliver an optimal tournament gaming experience for users while providing advertisers with the perfect vehicle for delivery of their messaging to a fully engaged audience. More information: view www.emergegaming.com.au and miggster.com 
About TIM ("MIGGSTER")
TIM is part of the Impact Crowd Technology Group (ICT). It is a Spanish incorporated group with its headquarters in Madrid. The ICT Group's vision is to create the world's largest sales force, disrupting the traditional value chain and distribution of apps, software, products and services. By using its network, the ICT Group sells products directly to the end customer. Similar to Uber and Airbnb, who own neither cars nor beds, the ICT Group does not sell any products of its own. The ICT Group markets other companies' products and services across its network of members and affiliates. More information: view www.impactct.com and miggster.com.