Herbalife Q3 Sales Up 22% To $1.5 Billion
November 6, 2020
By Team Business For Home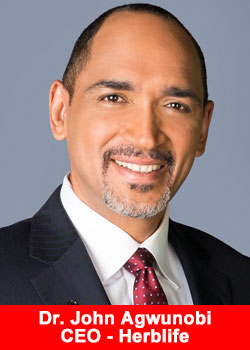 Herbalife Nutrition Ltd. (NYSE: HLF) today reported financial results for the third quarter ended September 30, 2020:
Reported net sales of $1.5 billion for the third quarter 2020 increased 22.3% compared to the third quarter 2019 and represents the largest quarterly result in Company history.
Excluding the impact of foreign exchange rates and Venezuela, net sales increased 25.1% during the third quarter compared to 2019. ▪
Volume points of 1.9 billion, also a quarterly record for the Company, increased 23.2% compared to the third quarter 2019.
This is the tenth consecutive quarter of year-over-year volume point growth.
Year-over-year volume point growth in all six geographic regions with four of six regions delivering double-digit increases.
Third quarter 2020 reported diluted EPS of $1.04 and adjusted1 diluted EPS of $1.15, compared to $0.58 and $0.73, respectively, for the third quarter 2019, which were negatively impacted in 2020 by expenses of approximately $3.2 million, or $0.02 per diluted share, and in third quarter 2019 of $5.8 million, or $0.03 per diluted share, related to the China Growth and Impact Investment Program.
During the third quarter, the Company repurchased approximately 16.4 million of its common shares at an aggregate cost of approximately $800 million, including $750 million from the modified Dutch auction tender offer completed in August 2020.
Providing Q4 and FY 2020 net sales guidance ranges of 10.0% – 20.0% and 12.2% – 14.7% growth, respectively.
Initial FY 2021 net sales guidance range of 3.0% – 11.0% growth, as well as reported and adjusted1 diluted EPS guidance ranges of $3.50 – $4.00 and $3.65 – $4.15, respectively.
About Herbalife Nutrition Ltd.
Herbalife Nutrition is a global company that has been changing people's lives with great nutrition products and a proven business opportunity for its independent distributors since 1980.
The Company offers high-quality, science-backed products, sold in over 90 countries by entrepreneurial distributors who provide one-on-one coaching and a supportive community that inspires their customers to embrace a healthier, more active lifestyle. Through the Company's global campaign to eradicate hunger, Herbalife Nutrition is also committed to bringing nutrition and education to communities worldwide. For more information please visit www.herbalife.com
Recommended Distributors Herbalife