Jenna Zwagil Top Speaker At The Business For Home Virtual Conference
November 18, 2020
By Team Business For Home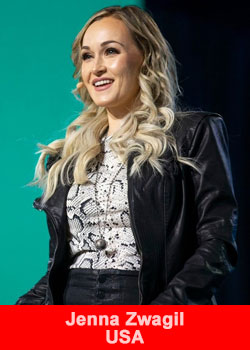 Order your "special early bird priced" ticket here
Jenna Zwagil holds a bachelor's degree in marketing and has been a successful network marketer and social media influencer for more than 10 years. She is celebrated industry-wide as one of the highest earning female Affiliates.
At first.. I sucked at Network Marketing. Don't get me wrong – my sales skills did translate but my people + relationship skills were underdeveloped.
The one thing I was good at in my life was running when things got uncomfortable. I ran from two marriages and a hundred jobs before I found network marketing.
Network marketing wouldn't award me success until I took personal development seriously though and that's the catch if there ever were one.
You attract what you are.This industry changes you if you let it. It challenges you to compete against yourself and who you used to be. It forgives you of your past and allows you the opportunity to reinvent yourself regardless of where you came from.
For that, I'm forever grateful. Reaching success was more about the person I became when the impossible became possible. It was the tears on my pillow the nights I swore I'd quit. It was the fight within myself to stay when every urge in my body told me to run.
Recently featured in Millionairess Magazine, Jenna continues to make a global impact and knows that even without the money, she would be happy knowing she has helped others.
—
Marketing Professionals from around the world will come together in an immersive generic training experience.
Using the latest and most advanced technology and audio/video equipment available, we will bring you 3 days of the best of the best training anywhere available for an unparalleled price, broadcasted from an impressive TV studio in the Netherlands.

An "special early bird priced ticket" is just $35 for all 3 days!
Young network marketing leaders, fast rising stars, as their mentors will share their methods and "secrets" to recruit, team up and build a large organisation.
30+ Top speakers from Asia, Europe, Africa, Latin America, Middle East and the USA!
Order your "special early bird priced" ticket here
April 2 – 4, 2021
"What's possible for one is possible for all, Network Marketing makes ordinary people to be extraordinary".
A ticket is just $35 for all 3 days!
Order your "special early bird priced" ticket here
About Business For Home Virtual Conference
The virtual conference is delivered to you in a completely generic format. No companies or products are ever mentioned, so you will feel safe to share this ultimate training event with your Team. Emerge from this new era as a true leader. Unveil the secrets of influential network marketeers from all over the work at our event.
And there is no better place to invest in yourself than the upcoming Business for Home Virtual Growth Conference, a three-day life changing experience that features renowned legends and rising stars.
Learn how to excel in your business and be empowered by successful leaders that will provide you with the necessary tools to become a better version of yourself. For tickets please click here, for the conference overview with 30+ speakers please click here.