Jessie Lee Ward Top Speaker At The Business For Home Virtual Conference
November 16, 2020
By Team Business For Home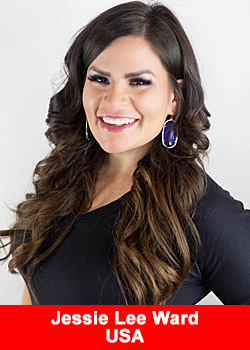 Order your "special early bird priced" ticket here
Born and raised in the USA, Jessie Lee Ward has achieved remarkable success where she now earns a 6-figure income per month from her social media marketing strategy and has 64,000+ followers.
Jessie was brought up in a low-income family in Maryland, USA but struggled to get educated to higher levels. Throughout her childhood and youth, Jessie had to fight and earn up to $300 per month that would facilitate her needs and maintain a living.
Though she had to endure a lot during her studies, she managed to pursue her passion for marketing, where she has several degrees in communication and marketing. Lee Ward developed immense skills and interest in the Network marketing industry through passion and committing all her time.
Through her determination and nurturing a strong team, Jessie has made significant achievements where she has brought up a multi-million dollar company that has secured global market share.
Jessie Lee Ward dedicates all her time in developing and extending her online marketing knowledge. She loves her family and has won numerous trips around the globe as a speaker, trainer, and a guest for her initiatives in sharing her skills and knowledge.
Marketing Professionals from around the world will come together in an immersive generic training experience.
Using the latest and most advanced technology and audio/video equipment available, we will bring you 3 days of the best of the best training anywhere available for an unparalleled price, broadcasted from an impressive TV studio in the Netherlands.
Meet Jessie Lee Ward
An "special early bird priced ticket" is just $35 for all 3 days!
Young network marketing leaders, fast rising stars, as their mentors will share their methods and "secrets" to recruit, team up and build a large organisation.
30+ Top speakers from Asia, Europe, Africa, Latin America, Middle East and the USA!
Order your "special early bird priced" ticket here
April 2 – 4, 2021
"What's possible for one is possible for all, Network Marketing makes ordinary people to be extraordinary".
A ticket is just $35 for all 3 days!
Order your "special early bird priced" ticket here
About Business For Home Virtual Conference
The virtual conference is delivered to you in a completely generic format. No companies or products are ever mentioned, so you will feel safe to share this ultimate training event with your Team. Emerge from this new era as a true leader. Unveil the secrets of influential network marketeers from all over the work at our event.
And there is no better place to invest in yourself than the upcoming Business for Home Virtual Growth Conference, a three-day life changing experience that features renowned legends and rising stars.
Learn how to excel in your business and be empowered by successful leaders that will provide you with the necessary tools to become a better version of yourself. For tickets please click here, for the conference overview with 30+ speakers please click here.