John Haremza Top Speaker At The Business For Home Virtual Conference
November 23, 2020
By Team Business For Home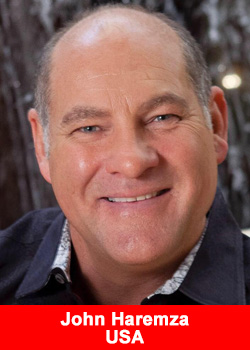 Order your "special early bird priced" ticket here
April 2 – 4, 2021
John Haremza, is a network marketing veteran with over 30 years in the business and earnings in excess of $25 million.
He achieved a new high of $4 million last year.  His all-time proudest accomplishment has been leading his people to earnings of over $250 million and changing countless lives.
John's story is a true rags-to-riches tale, going from a trailer park in a small town in the USA, to a world-class network marketing leader.
His message is simple:
"If I can do it with my challenges and background, then you can do it."
He is living proof that you can be successful in this business regardless of your education, age, race, background, or finances.  When he was introduced to network marketing, John was working as the maintenance manager in a local factory. He had never sold anything in his life and had no business experience. He has severe dyslexia which meant he could not read. Back then, he had one objective—to be invisible. As John says,
"Network marketing changed my life in ways that were far beyond my imagination."
He talks about the fine line between phenomenal success and average results in network marketing.
—
Marketing Professionals from around the world will come together in an immersive generic training experience.
Using the latest and most advanced technology and audio/video equipment available, we will bring you 3 days of the best of the best training anywhere available for an unparalleled price, broadcasted from an impressive TV studio in the Netherlands.
An "special early bird priced ticket" is just $35 for all 3 days!
Young network marketing leaders, fast rising stars, as their mentors will share their methods and "secrets" to recruit, team up and build a large organisation.
30+ Top speakers from Asia, Europe, Africa, Latin America, Middle East and the USA!
Order your "special early bird priced" ticket here
April 2 – 4, 2021
"What's possible for one is possible for all, Network Marketing makes ordinary people to be extraordinary".
A ticket is just $35 for all 3 days!
Order your "special early bird priced" ticket here
About Business For Home Virtual Conference
The virtual conference is delivered to you in a completely generic format. No companies or products are ever mentioned, so you will feel safe to share this ultimate training event with your Team. Emerge from this new era as a true leader. Unveil the secrets of influential network marketeers from all over the work at our event.
And there is no better place to invest in yourself than the upcoming Business for Home Virtual Growth Conference, a three-day life changing experience that features renowned legends and rising stars.
Learn how to excel in your business and be empowered by successful leaders that will provide you with the necessary tools to become a better version of yourself. For tickets please click here, for the conference overview with 30+ speakers please click here.