Jump To Health Announces A New Mobile App
November 3, 2020
By Team Business For Home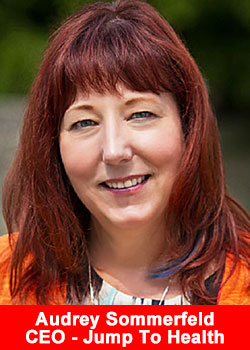 Jump To Health announces a new mobile app to help share "Better Products, Better Prices, Better Pay, Better Perks"
 Jump To Health™, the innovative nutrition and healthy lifestyle company, is launching a new tool to help provide education, tools, training, and share products to help fight sugar addiction, fight obesity, and tackle health challenges caused by poor nutrition.
Audrey Sommerfeld, CEO and Co- Founder of Jump to Health said:
Today our society eats almost 150 pounds of sugar per person, per year, hidden in our foods. Many people today lack nutrients and do not eat enough fruits, vegetables, and whole grains. Jump To Health™ offers nutritional products with powerful phytonutrients, antioxidants, prebiotic fiber, enzymes, protein and more to help support good health and energy.
Jump To Health™ is the first to offer programs, tools and natural products to help people get the nutrition they need, along with meal plans, programs, tips, recipes and tools based on lifestyles – vegan/vegetarian, keto, diabetes/blood sugar, and a simple Power 2 program. All these programs were created by Dr. Steve Witherly, PhD in Human Nutrition, with over 30 years helping people globally lose weight, build immune health, have better digestive health, blood sugar and more.
 "The new tools include a Mobile App to help our Executives better share the income and opportunity that is Jump To Health. This new Mobile App features an on the-go way to learn and share about health, while offering rewards for learning,"
said President Randy Mitchell.
"We've added quizzes, games, videos and information on how to make sense out of the fad diets and food industry marketing."
"Jump to Health offers better "Products, Prices, Pay, Perks" than other companies, which is the ultimate distinguisher,"
said Audrey Sommerfeld.
"We provide our membership access to a free 'savings' portal for shopping at major retailers, savings on hotels and travel, and savings on entertainment including movies, concerts, and amusement parks.

These unique benefits along with our better nutritional products, at better prices that deliver results, have helped us increase our popularity and value among our customer base. Our products are natural, affordable, taste great, and deliver results."
About Jump To Health™
Jump To Health™ is a nutrition & education company founded by industry experts with global experience building large consumer brands. Backed by science, and offering products that are engineered with healthy plant extracts, Jump to Health's focus is to break down food myths and help people change their lives.
The company promotes safe, affordable and effective weight loss management and nutrition products for a healthy lifestyle. The company is founded on the pillars of "Health, Wealth, Living and Giving" with products for health, revenue share for income, travel and savings portals for lifestyle, and giving back for helping others. F or more information please visit: www.jumpto health.com