Maxime Pierre From France Achieves Crown Rank At Kuvera
November 25, 2020
By Team Business For Home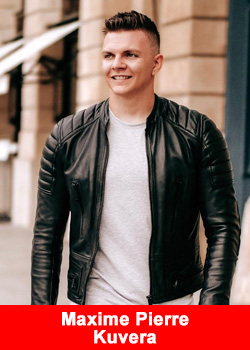 Maxime Pierre, twenty-three years old, is from France. Maxime never could have imagined the life he is living today. Maxime has always been a dreamer. When he was just six years old Maxime fell in love with soccer. It was his passion and his dream to one day become a professional soccer player.
When Maxime was thirteen years old, he joined a pre-training center and two years later he signed his first, three-year contract with a French professional soccer club. Maxime was starting to live his lifelong dream. Unfortunately, six months after he arrived at the training center, Maxime injured some ligaments in his knee. A few months later he injured the same knee again. He was devastated and in shock, but he kept working hard to rehabilitate his injuries so he could make it back on the pitch.
Shortly after his injuries, Maxime was diagnosed with a blood disease that made him lose complete mobility in his knee. He spent many months in the hospital and suffered long psychological ailments, including depression, as well as extreme physical suffering. He had to use a wheelchair for a few months, then moved on to crutches for some time. The process was long, but Maxime fought his way through this setback and made a good recovery. Unfortunately, due to these severe injuries, Maxime's dream of being a professional soccer player had come to an end.
Maxime went back to school and didn't find his new passion until he was introduced to network marketing in 2016. He saw the network marketing opportunity as a way to get revenge on his life. He knew this was his chance to prove to himself that he can succeed.
Throughout Maxime's network marketing career, he has built teams with tens of thousands of customers and partners, he has created a business with an incredible atmosphere and ethics and has helped thousands of people change their lives.
Maxime joined Kuvera in May of 2018. This was the second network marketing company he joined. He said,
"They always say the first company you join chooses you, and the second company you join is chosen by you. When I met the founders and top leaders in Salt Lake City at Kuvera's headquarters, I felt a real peace, communion and mutual support from the corporate team. I had to know that Kuvera, and their corporate team, was in a healthy position and was serious about their mission. This was the first thing that impacted me. When I listened to their vision, learning that Kuvera embraced education over wealth, I fell in love with Kuvera's services and opportunity."
Maxime really engaged with Kuvera's products. He doesn't have a favorite because he views the entire Kuvera ecosystem as "the product". He said,
"Each Kuvera product is important. The fusion of all of them is what creates the perfect financial balance."
With Maxime's strengths to increase his vision and standards, push beyond limits and learn from his mistakes with a goal to be better each day, he has excelled with Kuvera. He has reached the rank of Crown, one of the highest achieved ranks in the company. Though Maxime has found great success with Kuvera, he continues to remain a student of the products. He said,
"You must never stop doing what allowed you to achieve your goals, otherwise you will lose what you have."
Maxime seeks to learn as much as possible so he can use his experiences and knowledge to help others grow.  Maxime's advice to the field is,
"Remain humble and coachable. The process is long and hard, but that doesn't make it impossible. Quite the contrary; it makes it even better. But to achieve success you will need to be honest, respectful, patient and committed. Listen to the right people and apply their advice as much as possible.

Use the financial education and services Kuvera offers. This is the first step in the Kuvera business. After you engage in the education, realize the power the business has, then share the information with heart and purpose to as many people as possible."
Maxime's next goal with Kuvera is to open up new markets so that thousands of people can live a life like he is living today.
About Kuvera
Kuvera, a subsidiary of Investview, delivers financial education, technology and research to individuals through a subscription-based model. Kuvera provides research, education, and investment tools designed to assist the self-directed investor in successfully navigating the financial markets.
These services include research, trade alerts, and live trading rooms that include instruction in equities, options, FOREX, ETFs, binary options, crowdfunding and cryptocurrency sector education.
In addition to trading tools and research, Kuvera also offers full education and software applications to assist the individual in debt reduction, increased savings and budgeting.
Each product subscription includes a core set of trading tools/research along with the personal finance management suite to provide an individual with complete access to the information necessary to cultivate and manage his or her financial situation. For more information, please visit kuveraglobal.com