Medifast (Optavia) Q3 Revenue Up 42.8% To $271.5 Million
November 9, 2020
By Team Business For Home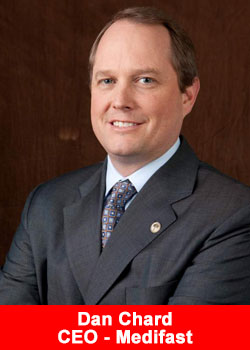 Medifast, Inc. (NYSE: MED), the company behind one of the fastest-growing health and wellness communities, OPTAVIA®, today reported results for the third quarter ended September 30, 2020.
Third Quarter 2020 Highlights Compared to Prior-Year Period
Revenue increased 42.8% to 

$271.5 million

30.7% growth in active earning OPTAVIA Coaches to a record level of 42,100
Revenue per active earning OPTAVIA Coach increased 8.2% over the second quarter to 

$6,329

Net income increased 116.7% to 

$34.5 million

Earnings per diluted share ("EPS") of 

$2.91

, an increase of 120.5%
"Our business continues to go from strength to strength, with high levels of client demand and engagement among independent OPTAVIA Coaches, accelerated growth and record levels of active earning Coaches,"
said Dan Chard, Chief Executive Officer of Medifast.
"Our programming efforts this year, along with enhancements to our organization, have given us a foundation for significant progress during the quarter. We continue to make investments to enhance our infrastructure to support our strong growth trajectory.

We believe we are well positioned to capitalize on the ever-increasing focus on health and wellness across the United States and around the world. Our comprehensive solution is resonating with Coaches and Clients everywhere, and we will continue to focus on providing our Clients with the ability to achieve lifelong transformation one healthy habit at a time."
"While the COVID-19 pandemic continues to deliver challenges and obstacles to consumer-facing businesses, our entire organization as well as our dedicated Coaches have successfully adapted to the new dynamics. We remain highly confident in our ability to deliver long-term growth to all of our valued stakeholders."
About Medifast®
Medifast (NYSE: MED) is the company behind one of the fastest-growing health and wellness communities, OPTAVIA®, which offers Lifelong Transformation, One Healthy Habit at a Time®. Based on nearly 40 years of experience, Medifast has redefined direct selling by combining the best aspects of the model. Its community of thousands of independent OPTAVIA Coaches teach Clients to develop holistic healthy habits through products and clinically proven plans, the Habits of Health® Transformational System and comprehensive support from a community of like-minded people. In 2019, Medifast expanded the OPTAVIA movement globally, beginning with the Asia-Pacific region. Medifast is traded on the New York Stock Exchange and was named to Fortune's 100 Fastest-Growing Companies list in 2019 and Forbes' 100 Most Trustworthy Companies in America List in 2016 and 2017. For more information, visit www.MedifastInc.com or www.OPTAVIA.com.
Recommended Distributors Optavia – Medifast