MyDailyChoice Hires Andrew Annor Apo As VP of Africa
November 18, 2020
By Team Business For Home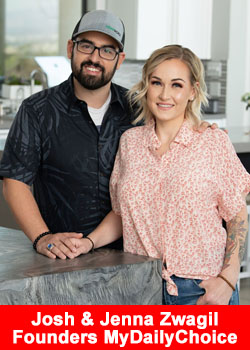 MyDailyChoice has hired Top Leader and 7 Figure Earner, Andrew Annor Apo as the Vice President of Africa. Andrew previously built an organization of 50,000 distributors throughout Africa with his first MLM company, where CEO & Founder, Josh Zwagil was a distributor.
Andrew went on to build another organization to 30,000 distributors and has helped several Network Marketing companies launch into the African markets.
"Andrew is an incredible leader and great friend. I'm excited to reunite with him and put together one of the most dynamic opportunities for Affiliates in Africa. I believe we will revolutionize Network Marketing in Africa." 
stated CEO & Founder, Josh Zwagil.
Over the past 2 years, MyDailyChoice has been working on international expansion into Africa with 7 offices, 36 different products, 30 employees and thousands of passionate Customers and Affiliates. MyDailyChoice is poised to hit new records as it expands throughout the region. Opening new markets in Uganda and Tanzania, Affiliates celebrated with events in Kampala and Dar Es Salaam.
Later this month, MyDailyChoice will be opening its Kinshasa office in the Democratic Republic of the Congo offering its full umbrella of brands including HempWorx, Mantra, Daily Sprays, High Life Travel and Akashx. Ghana and South Africa are also celebrating their one year anniversaries with special offers, events, and tours throughout our new offices.
MyDailyChoice is now open for business in Ghana, Nigeria, South Africa, Kenya, Uganda, Tanzania, and the Democratic Republic of Congo.
VP of Africa, Andrew Annor Apo said:
"The timing could not be more relevant than now to get started with MDC. From the suite of products and marketing tools offered, to the generous compensation plan, there is truly nothing like this in Africa. I look forward to changing so many lives and making a major impact in this new role."
For more information on MDC International Expansion, please visit www.mydailychoice.com/corp/international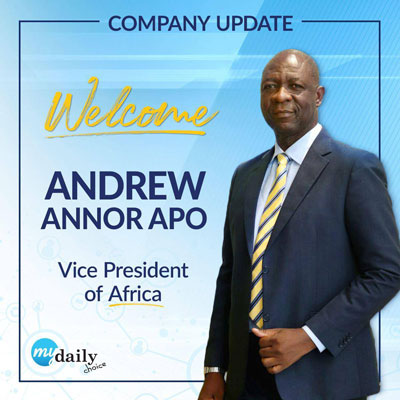 About MyDailyChoice
MyDailyChoice, Inc., based in Las Vegas, NV, specializes in CBD products, essential oils, travel deals, and wellness and performance products. They have more than 75,000 active Affiliates worldwide and five unique brands – HempWorx, Mantra Essential Oils, High Life Travel, Daily Sprays and Akashx.
MyDailyChoice's mission is to empower families with the opportunity to be physically and financially healthy. They are committed to innovation, quality and product breakthroughs that support holistic lifestyles and the entrepreneurial spirit. For more information, please call +1 (888) 877-5436 or visit www.mydailychoice.com.
Recommended Distributors MyDailyChoice